In Trek's bold future, women work on the bridges of starships; lead resistance cells; are engineers, botanists, doctors, mental health professionals, captains, admirals; and so much more. Though beyond the autonomy afforded these great professional accomplishments, do Trek women have similar autonomy over their personal lives? When it comes to sex and relationships, we're conditioned to not bat an eye when Riker, Kirk, Tom Paris, Picard, Bones, or many of the Trek men make their own personal decisions (including "fully functional" Data and Voyager's Doctor, who mentions making an "addition" to his program).
So, which Trek women are smashing the patriarchy, and which were failed by the writers?
One aspect in which media rarely shows women in a positive light is the role of the sexual aggressor. Star Trek gives us not only Phillipa Louvois fabulously calling Picard a "damn sexy man" (with all the wonderful implications that accompany her seductive eyes), but we also see Jadzia Dax actively pursuing Worf. Dax begins with a friendly flirtation; when Worf doesn't seem to notice her advances she steps up her game in a big way, culminating in a physical duel on the holodeck and her outright demanding that they pair off. This sort of aggression in women on screen is usually met with moral retaliation and some harsh warning about the behavior of "good girls," though Trek came through with a strong finish instead.
Prior to The Great Worf Seduction, in DS9 season two's "Playing God" we again get a win with Jadzia Dax when a Trill initiate arrives early to her quarters for a morning meeting. Instead of Dax, an unknown biker-looking alien answers the door moments before we see Dax, still dressed in a towel. The biker alien leaves with suggestive words and a kiss from Dax, and while the Trill initiate is obviously uncomfortable, we the viewer are meant to laugh at his discomfort since we clearly accept Dax's actions and decisions.
Is this a trend with one-night-stands; is Star Trek showing us a sex-positive future in which all people can make their own private decisions about coupling? A prime episode to consider is TNG's "The Price," in which delegates from several planets bid on the rights to a newly discovered wormhole. One of the negotiators is hiding the fact that he's a telepath and uses his advantage to not only manipulate the bidding process and the other delegates, but to sleep with Troi as merely a bargaining tactic. His methods in pressuring her into sex are exceedingly sleazy, though the reactions of Troi's colleagues are fantastic when NO ONE judges her afterward, even our sometimes-problematic Riker, who had only positive words. This was a brilliant saving grace for a sub-par episode: Star Trek so clearly trusted a woman to make her own decisions about sex.
But, do they always? Let's look at Kes. She initially runs off with Neelix to live aboard Voyager and is not judged for leaving her own people for love and adventure. However, in season three the episode "Darkling" introduces her to a potential new fling. She's staying out late with Zahir, even contemplating leaving Voyager to travel with him, only to be greeted back aboard by the Doctor throwing shade at how late she's been staying out. Hinting that this isn't an isolated incident, Kes laments that, "everyone seems to be treating me like I'm still a child." Room for improvement, Trek writers.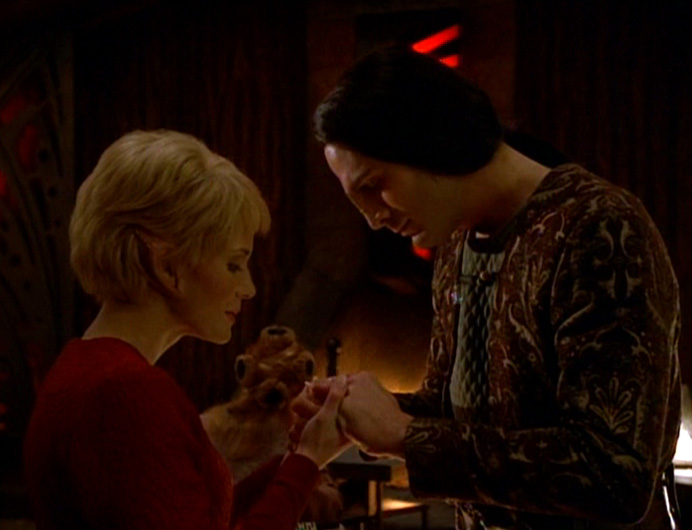 Where Trek failed spectacularly in this regard was on behalf of Commander Nella Daren, who ascended her career so far as to be a department head on the flagship of the entire Federation. While working at the pinnacle of her career she met a man with whom she could envision a real, enduring partnership… then made the mistake of pursuing that love. Two such well-adjusted adults as themselves could easily have continued a working relationship if the romantic one didn't pan out (how often does the Captain really interact with Stellar Cartography?). Instead, at the first sign of trouble, she was whisked away for his comfort and his alone. The saddest part of that episode is not seeing the lovely relationship end, it's watching such a highly qualified Starfleet officer as she's forced to cheerfully take a professional demotion and disappear quietly into the wind.
Among these wins and loses is a special honorable mention. TNG's "Transfigurations" is especially notable for the I-can't-believe-it's-not-awkward conversation that Wesley starts with his own mother about her love life and newly forming relationship with John Doe. It's a non-judgmental conversation where he seems genuinely interested in her happiness: a future in which parent and child can discuss matters of love in such an open way is a bold future indeed.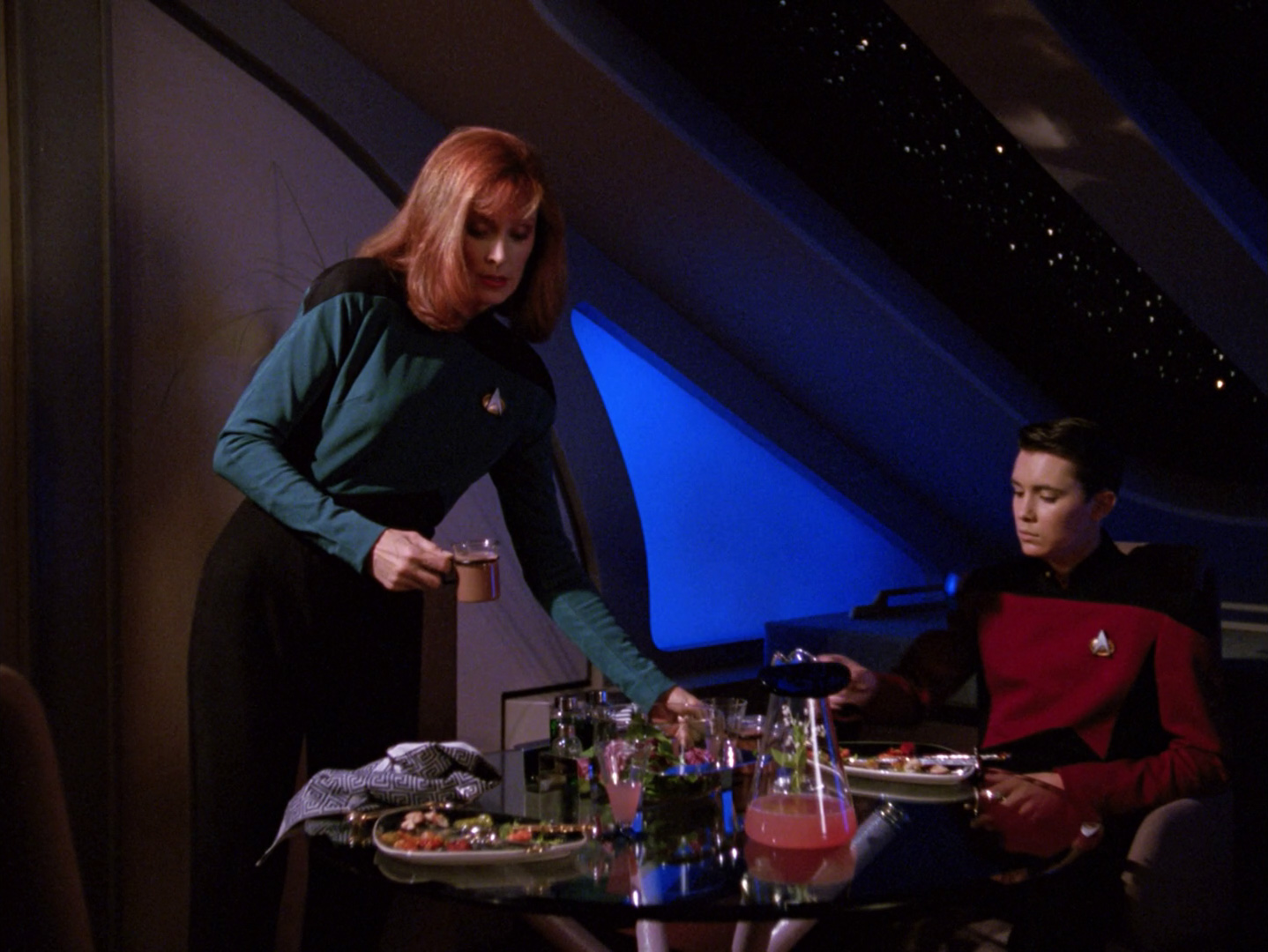 Whether Troi continues to defy familial expectations and choose her career over marriage, Kira has yet another long-distance relationship, or Janeway keeps her enemy much closer, women in the alpha, gamma, and delta quadrants are primarily in control of their private lives. With some clear failures and marked room for improvement, the Trek writers did quite a nice job overall in providing opportunities for women to match the romances and affairs afforded men. Let's keep going boldly forward with Discovery!