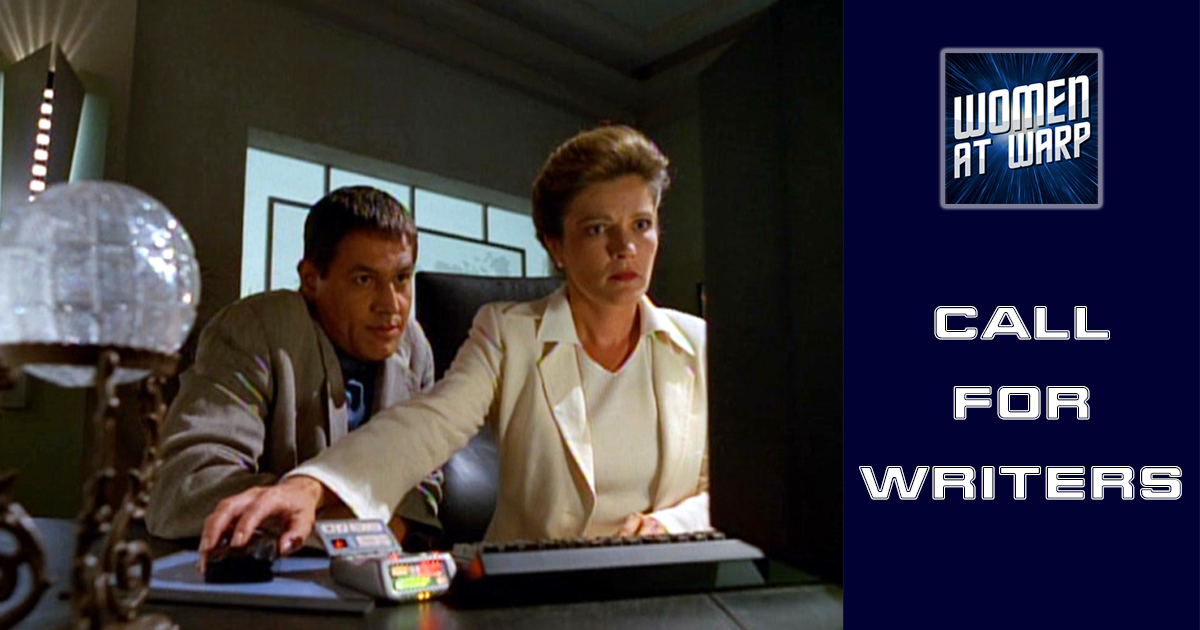 We're thrilled to announce that we'll be launching a Women at Warp blog starting in January, 2017, and we're looking for writers. Our goal is to publish one original post per week, featuring a range of voices talking about Star Trek.
Thanks to the support of our Women at Warp Patreon patrons, we're able to offer a small stipend for original posts. See below for contact information and further details.
Submission Guidelines
Women at Warp welcomes submissions from guest bloggers of all genders, races, and sexual orientations. As a Women at Warp guest blogger, you will have the opportunity to make your voice heard, share your experiences and perspectives, and gain valuable writing experience and feedback.
If you're interested in contributing, send the crew a short email at blog@womenatwarp.com to let us know who you are, if you have any blogging/writing experience, and what you're interested in writing about.
At this time, we are able to pay contributors a small stipend for agreed-upon, original content delivered on schedule. Additionally, you will gain exposure for your writing, the opportunity to network with our other contributors, and feedback on your writing from our editors.
Women at Warp is a feminist organization. For reference, feminism is defined in this document and on the blog as a "movement to end sexism, sexual exploitation, and oppression," including but not limited to oppression based on race, sexual/gender identity, disability, class and age.
All topics should be Star Trek-related.
Types of Posts
Short report on a Star Trek-related event or news item (450-750 words).
Analysis of an issue or theme in Star Trek, e.g. mental health, Indigenous representation, or sexual assault (500-1,000 words).
Review of a new Star Trek book or comic series (500-750 words).
Personal reflection on how a book, comic, movie or episode of Trek has affected you, or a reflection on an experience in fandom (500-1,000 words).
Issues We Cover
Anti-racist feminist analysis of Star Trek content and fandom.
Portrayals of women; LGBTQ+; visible minorities; and/or people with disabilities in Star Trek.
Related issues pertaining to social inequalities (racism, homophobia, transphobia, ableism, poverty, etc.) and science-fiction.
Picking Blog Topics
You can choose to write about topics you're passionate about, as long as they fit into the above issue areas. Please ask if you're not sure.
You can ask us for a topic if you're not sure what to write about.
Your choice of topic should be approved to make sure we're not duplicating topics. Just send us a short e-mail proposal.
What We Won't Accept
A review of a specific book, episode, etc that's been covered on the blog before.
Anything that may be considered a link-building scheme, or is too promotional of the author's company/organization.
Anything that's offensive or inaccurate.
Currently, we are only accepting pitches for stand-alone posts, no multi-post columns or series.
Writing Guidelines
Word count – maximum 1,000 words.
Tone – smart, conversational, informal, and good-humored.
Anger and criticism should be expressed constructively.
In your voice – write from your own perspective and share your opinions.
Well-written – standard grammar rules, spelling, and punctuation still apply.
Action-oriented – tell us what appropriate action can be taken on the issue, if applicable.
Graphics, photos, or YouTube videos should be included with every blog item and must have a caption. Open source photos can be found on sites like Wikimedia Commons.
The "feature image" for all posts should be 1200x630px.
Cite ALL sources – you must include links to all graphics and articles you used or referenced in your blog. This includes citing news clips, TV shows, magazines, newspapers, etc. Our preference is that you hyperlink each online source into the text it references on your Word or Google doc or in your email.
Use appropriate language — avoid profanity and use good judgment. If it can't be said on TV or radio, it probably shouldn't be in your blog, unless it is quoted from the article you are writing about, if it is absolutely necessary to explain something (like the word "bitch"), or if you can defend your use of the term is in keeping with the philosophy of the blog.
Always include a title for your blog and graphics or photos (with captions).
You are encouraged to comment respectfully on other contributors' blog posts.
All blog items should be turned in via e-mail as a Microsoft Word or Google document (attach images to your e-mail) to blog@womenatwarp.com by a mutually agreed-upon deadline. If for any reason you cannot meet your committed deadline, please let us know in advance.
If your post is accepted, it will be posted on the scheduled date.
The Women at Warp blogging team will edit blog submissions for grammar, spelling, and style and will re-submit edited articles to you for your final sign-off. All blog entries will be posted with the signature of the author — either your initials, first name, full name, or pseudonym if requested.  We reserve the right to update the blog in the future for accuracy and comprehensiveness.
Additionally, you will grant Women at Warp the exclusive right to publish your original post for a minimum of three months, before you cross-post to other sides. If, after this three-month period, you choose to republish the blog elsewhere, we ask that you link back to the post on Women at Warp as the original publication source.
Any questions? E-mail blog@womenatwarp.com.