After more than a year, in-person gatherings like fan conventions are starting up again. As we face the idea of being indoors with thousands of other people after a year of isolation, emotions are high. Many of us are grappling with valid anxieties about how to stay safe and healthy in this new era of conventions. Simultaneously, many people are really excited to get back to cosplay, celebrity photo ops, fan panel discussions and merch shopping – not to mention geeking out with our friends in person again. The excitement and the anxiety are not mutually exclusive.
But before you show up at the registration table to pick up your lanyard, there's a third conversation I want to make sure we're having, about how we can foster convention spaces that are safe, welcoming, and free of harassment and discrimination. 
Fans have been talking about harassment and discrimination at conventions for many years. Movements like Cosplay is Not Consent and #MeToo have raised awareness of the problems and spurred significant progress at many major fan cons, but there is still work to do.
If you talk to regular convention-goers, particularly women, people with disabilities, or anyone who's BIPOC or LGBTQIAP2S+, you will likely still hear stories about upsetting con experiences, ranging from offensive comments to stalking to online harassment to outright assault. Many times attendees try their best to manage the situation by warning their friends away from the problematic con-goers, not knowing how to enlist the help of event organizers, or fearing they will not be supported if they try.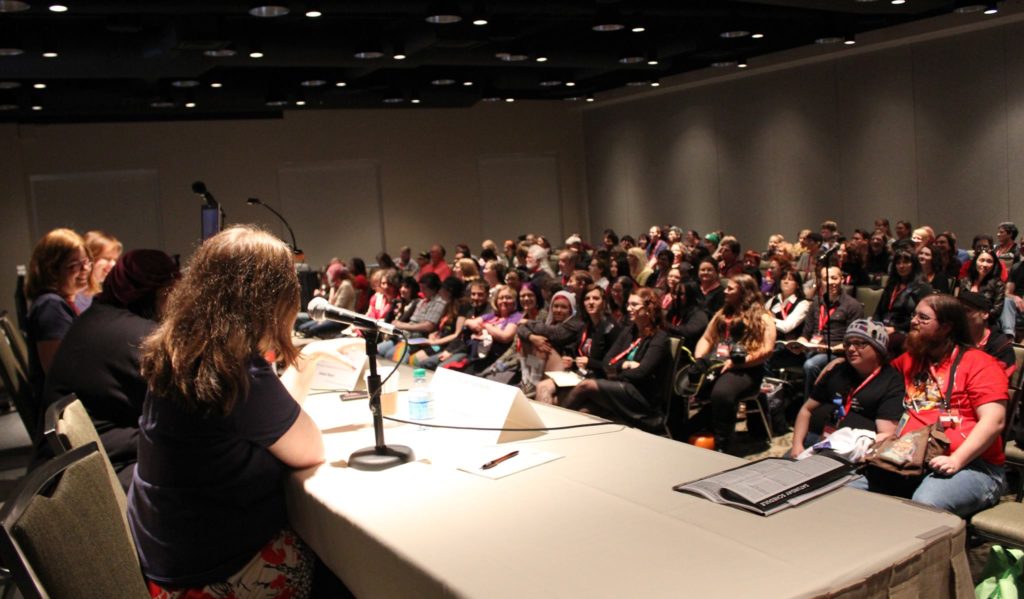 Luckily, thanks to years of organizing and awareness raising, we have clear solutions that convention organizers can adopt to combat harassment and ensure safety for staff, volunteers, and guests as well as attendees.
Best practices to combat convention harassment include:
Clearly publicizing an event harassment policy (online and at the event itself) and ensuring it covers staff, volunteers, guests and attendees; clearly defines unacceptable behaviours; and includes reporting and enforcement mechanisms;
Training staff and volunteers on the event harassment policy;
Establishing a simple, easy-to-locate, confidential on-site harassment reporting mechanism for attendees; and
Preparing a list of emergency resources such as emergency services, mental health and sexual assault hotlines to assist if incidents arise that are beyond the abilities of conference staff to resolve.
The Geek Feminism Wiki has amazing resources beyond these points, such as a public domain sample policy, and pro-active responses to common concerns that you might hear from convention organizers who haven't yet adopted a robust policy.
Another great resource is the Cosplayer Survivor Support Network website, which tracks how conventions are doing at adopting and implementing policies and suggests questions to ask about cons you're planning to attend, like whether or not the policy has a clear email and/or phone contact for reporting, not just a suggestion like "see staff."
Before your next convention:
So before you hit the road to head to your first convention in over a year, take a few minutes to browse the event website with an eye to the above best practices. If it's  not clear from the website, you might want to politely reach out to the convention organizers to ask what measures they're taking to promote a harassment-free event, and point them in the right direction. Many conventions are businesses and they need to know this matters to attendees. Those that are fan-run need to know it's important to the community.
Early in the pandemic we saw individuals, organizations and politicians adopt "Building Back Better" as a rallying cry, based on the idea that we needed to aim higher than just "getting back to normal" post-pandemic. I'd like to see us apply similar thinking to convention spaces. This moment presents the opportunity to not just to reduce our risk of COVID transmission at cons, but also to ensure that these events are safe places for fans of all genders and backgrounds to gather without fear of discrimination, harassment or assault.