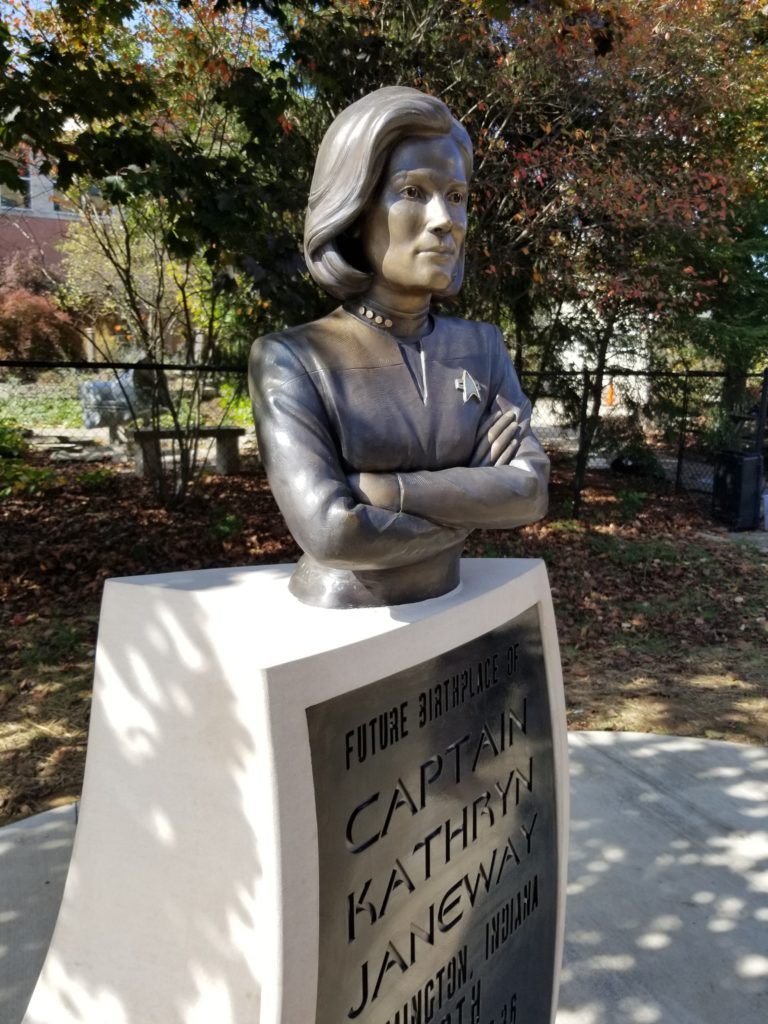 Bloomington, Ind. — 25 years after her debut in Star Trek: Voyager as the franchise's first female lead in the captain's chair, Captain Kathryn Janeway has finally received recognition in her fictional hometown of Bloomington, Indiana.
On Saturday, a group of Bloomington-based Trekkies, known as the Captain Janeway Bloomington Collective, dedicated a statue to Janeway with the help of Capt. Janeway herself, Kate Mulgrew, who joined the event virtually.
"It is a great privilege to have played her and to know of her great resonance in the world today," Mulgrew said.
The coffee-loving captain will be born in Bloomington in a little more than three centuries, on May 20, 2336.
 Led by President Peter Kaczmarczyk, the collective (not Borg affiliated) called Janeway "an inspiration."
"I love my Trek but Captain Janeway is so much more than just a great character among the Trek pantheon," Kaczmarczyk said. "People locally recognize this, and the broadening of the appeal has helped us every step of the way and it plays a big part in the interest and excitement we see. We have our share of Trek nerds but we have a lot more people who respect and honor who Captain Janeway is and what she represents."
"From the very beginning we stressed that this wasn't just about a Star Trek character, it was about Captain Janeway the role model, the inspiration, the leader who young girls and women could, and still can, look up to."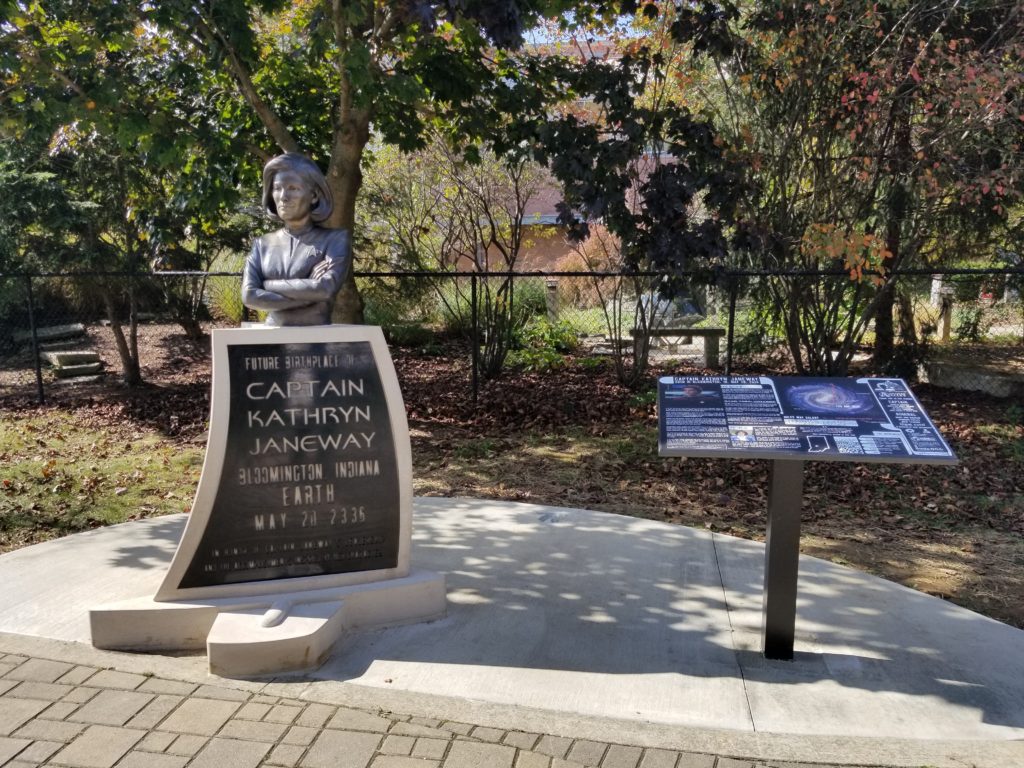 "Hearing you all speak today is deeply moving to me," Mulgrew said. "To realize that Janeway has had such an important role in your lives, and I think, in cultural history, is not only terribly affecting to me, but makes me want to go forth in a new way, and I am doing that, I think, with Prodigy."
Peter and his wife Mary Beth said the idea to memorialize Janeway in Bloomington came while talking with other Trekkies on the Star Trek the Cruise III last year.
"When one of my fellow cruisers asked if Bloomington had a Janeway monument like Captain Kirk's in Riverside, Iowa, I realized that's exactly what our town needed," Mary Beth said.
Situated to the eastern side of the WonderLab Science Museum, the bronze statue's placement is no mistake.
"I am particularly jazzed that the Janeway monument is near WonderLab Museum," said the collective's Mary Ann Macklin. "Where her devotion to science and creative leadership will serve as an inspiration for future scientists across the gender spectrum."
Bloomington gained its notoriety as Janeway's hometown thanks to TNG and Voyager producer and writer Jeri Taylor, who spent her youth and college years in the Midwestern town and is an Indiana University alum.
During her time working on Voyager, Taylor cemented both her and Janeway's connection to Indiana, making Bloomington her hometown and the fictional town of Portage Creek, Indiana the home of Janeway's ancestor, Henry Janeway.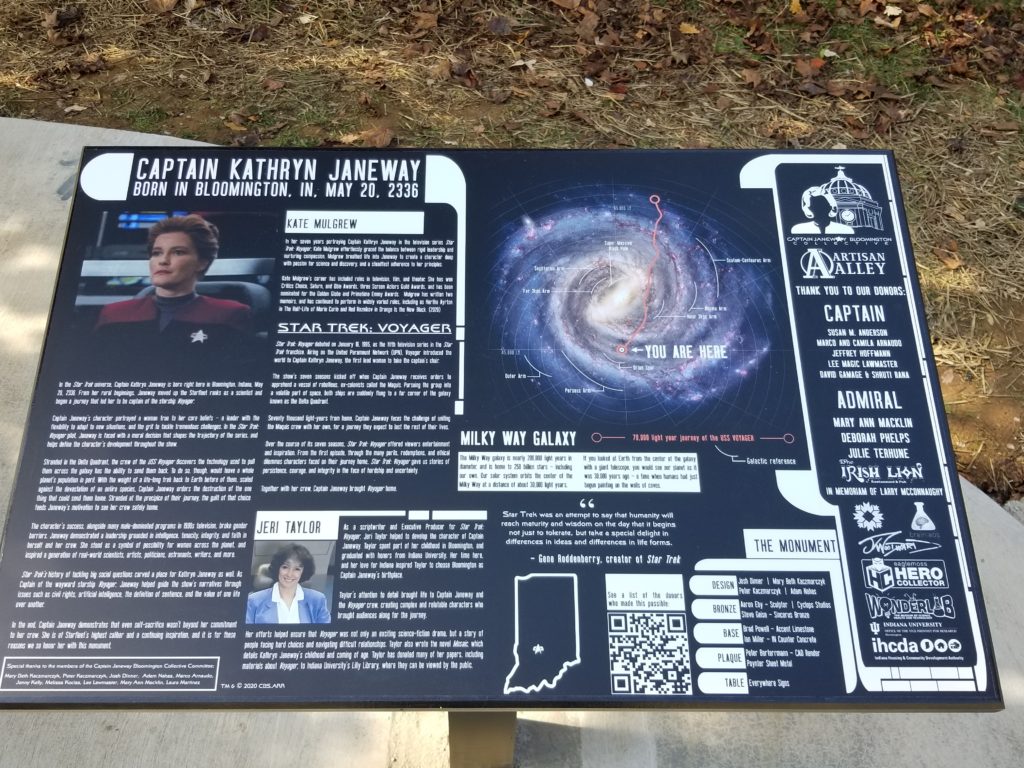 Bloomington is referenced in the seventh season episode "Imperfection," during a conversation with Seven of Nine.
Seven: Bloomington, Indiana. Your hometown. You've mentioned it on several occasions.

Janeway: So, what do you think?

Seven: It appears to be a pleasant environment.

Janeway: When we get to Earth, I'll take you there.
Speaking to the crowd, Mulgrew said she was happy to see Janeway "at home in Bloomington, where she belongs."
For anyone who wants to visit the Janeway statue in person, the statue is located on the B-line trail in Bloomington, between the Hyatt Place and the WonderLab Science Museum, where she greets visitors and fans. The exact location can be found on Google Maps.