This review may contain spoilers for Star Trek: Picard Season One.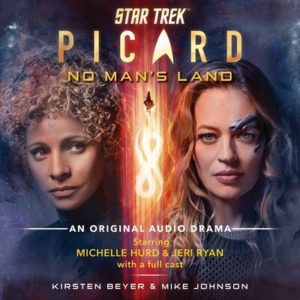 From the Publisher: Star Trek: No Man's Land picks up right after the action-packed season one conclusion of Star Trek: Picard. While Raffi and Seven of Nine are enjoying some much-needed R&R in Raffi's remote hideaway, their downtime is interrupted by an urgent cry for help: a distant, beleaguered planet has enlisted the Fenris Rangers to save an embattled evacuation effort. As Raffi and Seven team up to rescue a mysteriously ageless professor whose infinity-shaped talisman has placed him in the deadly sights of a vicious Romulan warlord, they take tentative steps to explore the attraction depicted in the final moments of Picard season one.
Clocking in at a mere hour and 39 minutes, there's not much more that can be said about the plot of No Man's Land without spoiling it entirely.  But, in my opinion, this audio drama is not about a Romulan warlord or an inexplicably long-lived scientist or a mysterious talisman – it's about relationships.  The relationship between the scientist and his lost wife, the relationship between the Fenris Rangers and Starfleet… but most importantly, the relationship between Seven of Nine and Raffi Musiker.
At the end of season one of Picard, there was certainly both excitement and frustration over what appeared to be a budding relationship between Seven and Raffi.  The excitement was obvious.  The frustration comes from a long history of fans being promised explicit queer representation in Star Trek, and having that promise broken time after time.  Let's not forget that the Voyager writers spent many an episode trying to convince us that Seven of Nine was straight, despite many fans' interpretations.  But, we were assured by writers and actors alike that we would actually see Seven and Raffi in a relationship, explicitly, in Picard season two.  Here in this audio drama, we see that relationship's beginnings.
Both Seven and Raffi are characters who have experienced significant trauma in their pasts.  They've each had to put up walls and become fiercely independent, because relying on others has gotten them burned before.  Throughout this story, we see them trying to open up and trust one another.  Sometimes they fail, and sometimes they find better ways forward.  These kinds of character beats, as these two learn to navigate one another, are Kirsten Beyer's forte, IMO.  And if this is the groundwork for season two, I can't wait to see more.
About the format: This adventure is a true audio drama, not an audiobook – it's all dialogue and sound design and nothing else.  I can't help but assume that's where Mike Johnson's expertise as a Star Trek comic book writer came in handy.  It is a real skill to write all necessary exposition into dialogue without it sounding forced or clunky.  That being said, if you're not used to audio dramas, this dialogue-only format can take some getting used to, especially if you have a habit of listening to podcasts and audiobooks at 1.75x speed on your commute (guilty as charged).  This story is fully dramatized, with background music and sound effects.  Slow it down and enjoy the ride – and the performances.
Both Jeri Ryan and Michelle Hurd give outstanding performances here, with a supporting cast of Jack Cutmore-Scott, John Kassir, Fred Tatasciore (who also voices Shaxs on Lower Decks), Chris Andrew Ciulla, Lisa Flanagan, Gibson Frazier, Lameece Issaq, Natalie Naudus, Xe Sands and Emily Woo Zeller.  In truth, the whole cast does an outstanding job with this audio drama, creating fully realized characters in a piece that's under two hours long.
The specifics of this production aside, I do wonder if this could be the start of a series of Star Trek audio dramas, similar to the Big Finish Doctor Who stories.  They are such a wonderful way to tell new stories with former cast members, and no one has to get into uniform.  (If not for Big Finish, Paul McGann's time as the Doctor would have been limited to one very questionable TV-movie…)  I'd love to see more.
Star Trek: Picard: No Man's Land was published by Simon & Schuster on February 22, 2022 with an MSRP of $19.99 US.  You can download and listen to Star Trek: Picard: No Man's Land wherever audiobooks are sold, including bookshop.org.
*This post contains affiliate links, so we may earn a small commission when you make a purchase through links on our site at no additional cost to you.
Note: Giveaway is now closed. Winners will be notified by Sunday, February 27.
Thanks to our friends at Simon & Schuster, we have 10 copies of No Man's Land to give away! To enter the giveaway, just email us at crew(at)womenatwarp(dot)com with the subject "No Man's Land" and tell us which characters you'd like to see featured in a future Star Trek audio drama (no guarantees here – just fun speculation). Winners will be chosen at random. Entries will be open through Friday, February 25, 2022 at 11:59pm EST. Winners will be provided with a free download code that can be redeemed on the Google Play app or through the Google Play website.