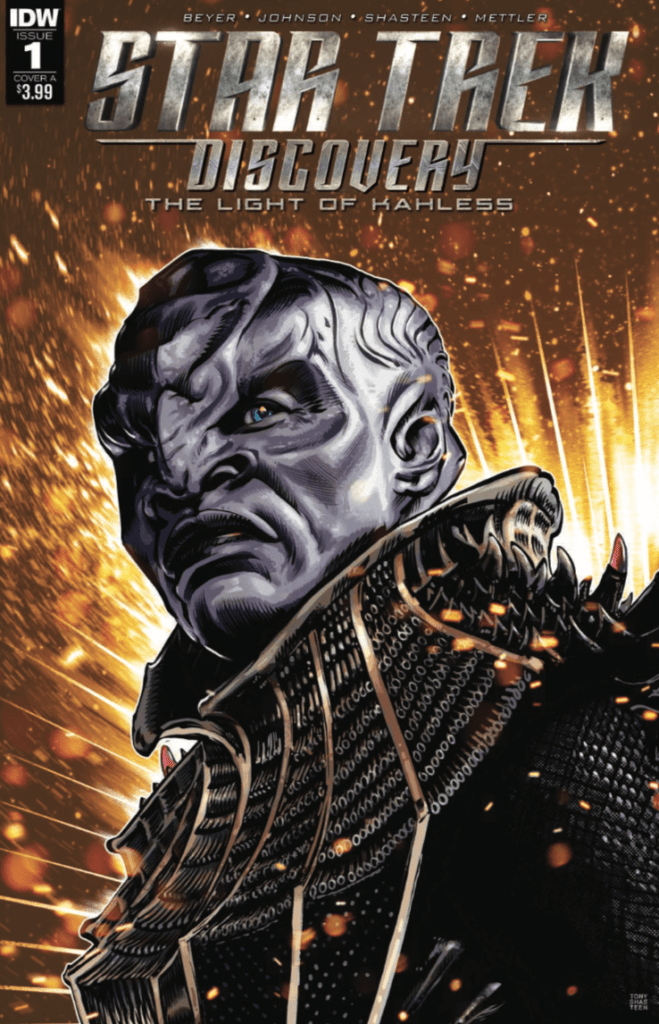 If you've been finding the Star Trek: Discovery holiday hiatus difficult to endure, the new tie-in comics from IDW are here to help fill that void. The new comic series is co-written by show writer (and highly-regarded Trek novelist) Kirsten Beyer and long-time IDW Trek comic writer Mike Johnson and the first arc, "The Light of Kahless" promises to illuminate the backstory of T'Kuvma, the "Klingon Messiah."
The frame of the story takes us from the end of Episode 2, "Battle of the Binary Stars" and shows Voq struggling to lead his people. L'Rell attempts to give him courage by telling him T'Kuvma's story.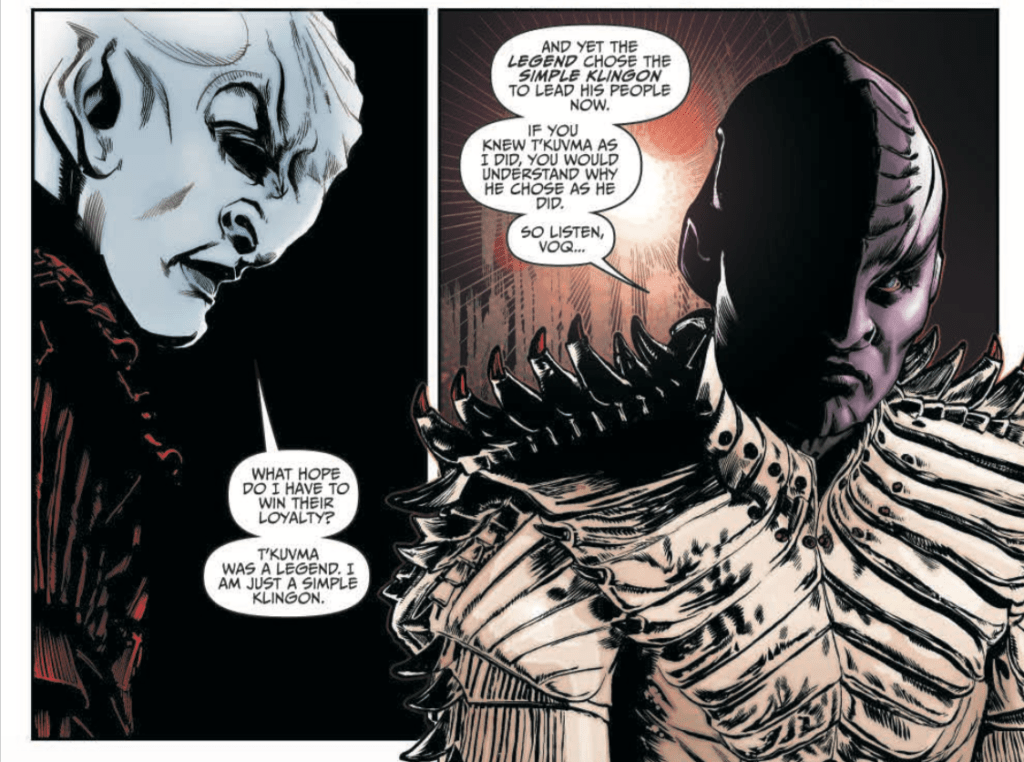 Spoilers ahead:
Much of the backstory in issue 1 is a repeat of what we already know from the show, but those of us always jonesing for new badass women characters will be excited to see the introduction of T'Kuvma's older sister, J'ula, a girl who appears to have extraordinary brains and strength but who is held back because of her gender. She appears to be a role model to T'Kuvma and I hope we get to see more of her, even though my gut says she's going to get killed off before the series' end.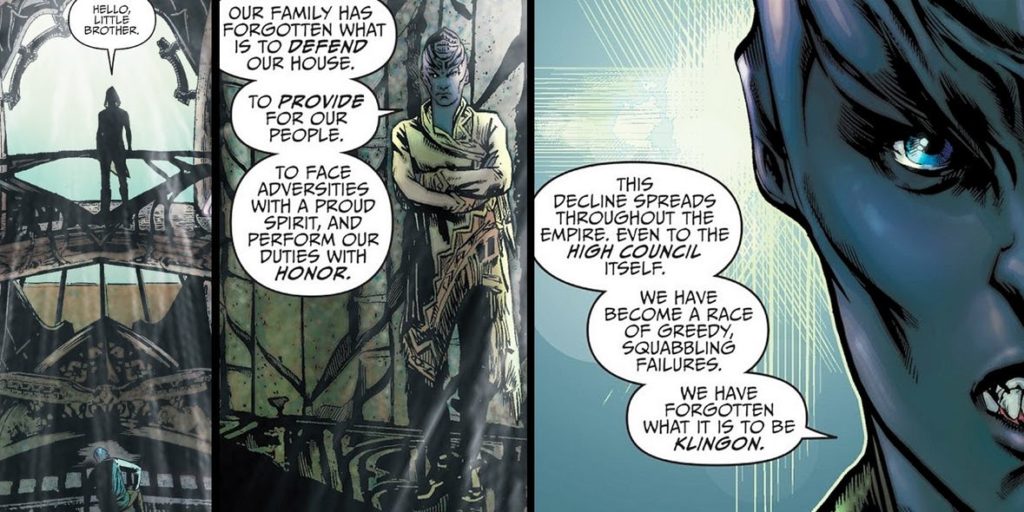 I know a lot of people who don't love the Klingons in Discovery. If your issue was the spoken Klingon with subtitles, you don't have to worry about that here, obviously. And if your concerned with continuity issues, this series promises to shed light on the differences among the Klingons and how the Discovery Klingons connect to those we know and love from earlier series. Take this panel, which shows an adolescent Klingon with a goatee reminiscent of TOS or later Klingons, and a Klingon with a ponytail, like Worf ends up wearing. It's subtle, but it's there, and we can hope that as the series progresses, more of the gaps will be filled in.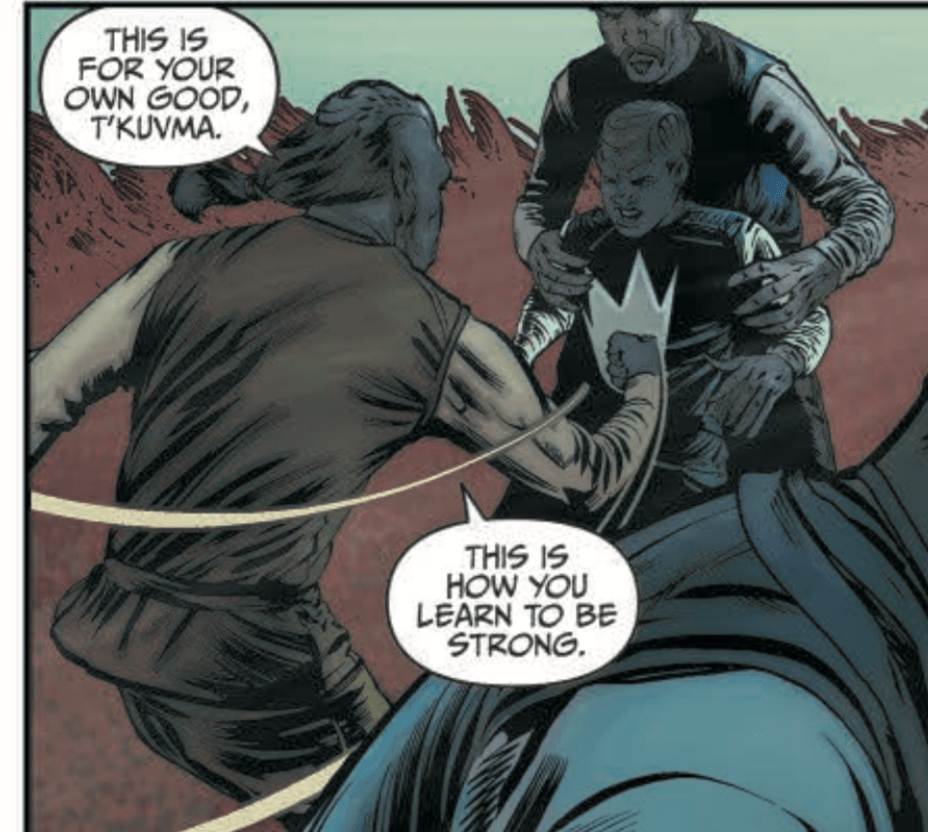 The art by Tony Shasteen and colour work by J.D. Mettler will be familiar to IDW Trek comic fans, and it fits well with the Discovery look and feel, though sometimes the colours look a little odd on paper, where they would work on TV, as in the depiction of the sarcophagus ship in space, and some of the scenes on the Klingon homeworld.
Overall this is a promising start to the comic tie-in series. I'm looking forward to seeing how the arc develops and learning more about how T'Kuvma adopts the teachings of Kahless. Then after "The Light of Kahless," if all goes well, the series will fill i more background on other Discovery characters or events.
"The stories are meant to stand on their own as thrilling adventures, while simultaneously going deeper into events or individuals and provide real insights that support and enrich the show for the fans," said Beyer in an interview at comicbook.com. Beyer added that she hopes the comics will eventually spotlight each of Discovery's main characters, "but finding the right time and the right story as the show continues to develop is critical."
Mike Johnson also hinted we could be seeing mushrooms in future issues, so fingers crossed for a Stamets-centered line next!