That handhold. Anyone who follows me on Tumblr is treated to weekly doses of it: over and over, the same gifs of the same clip, Seven of Nine and Raffi Musiker leaning close and clasping hands. I reblog them because I love them, because they're too good to be true, because I can't believe they exist. Every time I click that button, I expect them to disappear.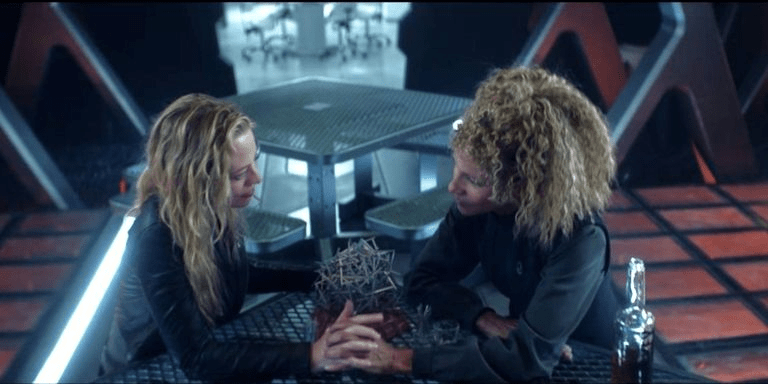 –
I didn't know I was gay until two weeks after I turned twenty-two. I grew up evangelical. As a kid, I was quiet and homeschooled. As a teen, my personality traits were loving Jesus and not wearing tank tops. When I graduated high school, I went straight from my parents' house to an evangelical college in the American South. Being gay was not an option. The thought did not even cross my mind until after I graduated college, and only then because it had become so obvious as to be impossible to ignore.
The thing about coming out to yourself in your twenties is you spend so long wondering how much you missed. Every day brings a new revelation—I had a crush on that girl in sixth grade, I was in love with that woman, I personified twelve gay stereotypes without even knowing the word 'lesbian.' You start to look back at your life with the benefit of hindsight, and you realize: Wow. I have always been so gay.
I'm not talking about pining or crushes, though those are very much a part of it. I'm talking more about the essence of queerness, the way, as Kristen Arnett writes, it "becomes a thing recognizable because of how it's othered from the world around it." Star Trek is rich with inherently queer characters. Spock, Odo, Data, B'Elanna, Worf, Kira, Dax, Tasha Yar—even whole shows, like Voyager and Deep Space Nine, can be read as metaphorically queer. After all, what is gayer than building a found family or making a home out of the ruins that remain?
–
When I think about my teenage years, I think about loneliness. I think about church and how it was my main social outlet, and how even there, I flowered walls. I hung out with the youth group moms, picked up trash and swept floors. Anything to keep my hands busy, to look like I belonged.
Star Trek was an escape from that. Every day, I curled up on the couch and forgot about life for a while. In space, no one was homeschooled. No one talked about the importance of missions or evangelizing. There were no churches whose cliques and crowds I had to navigate three times a week. No girls asking what boys I liked or how many I'd dated and why I had no interest in talking about my first kiss. Best of all, in space, no one was lonely. Or, if they were (e.g. Odo, B'Elanna), the promise of found family enfolded them by series' end.
But then there is Seven of Nine.
I admit—I ignored her on Voyager. My dad made sure of that. He announced loudly and often that she had been brought on to be the Borg babe, and all I saw was curves in a catsuit.
But then came Picard and Seven in a leather jacket, Seven in knit sweaters, Seven with messy hair. The moment she appeared, I felt something shift inside me. An awakening. A recognition. It was in her eyes and the press of her lips, the stiff tilt of her shoulders and the way you could tell she'd had to teach herself how to walk into a room.
And then that handhold. That question blooming in my chest: What if Seven is queer?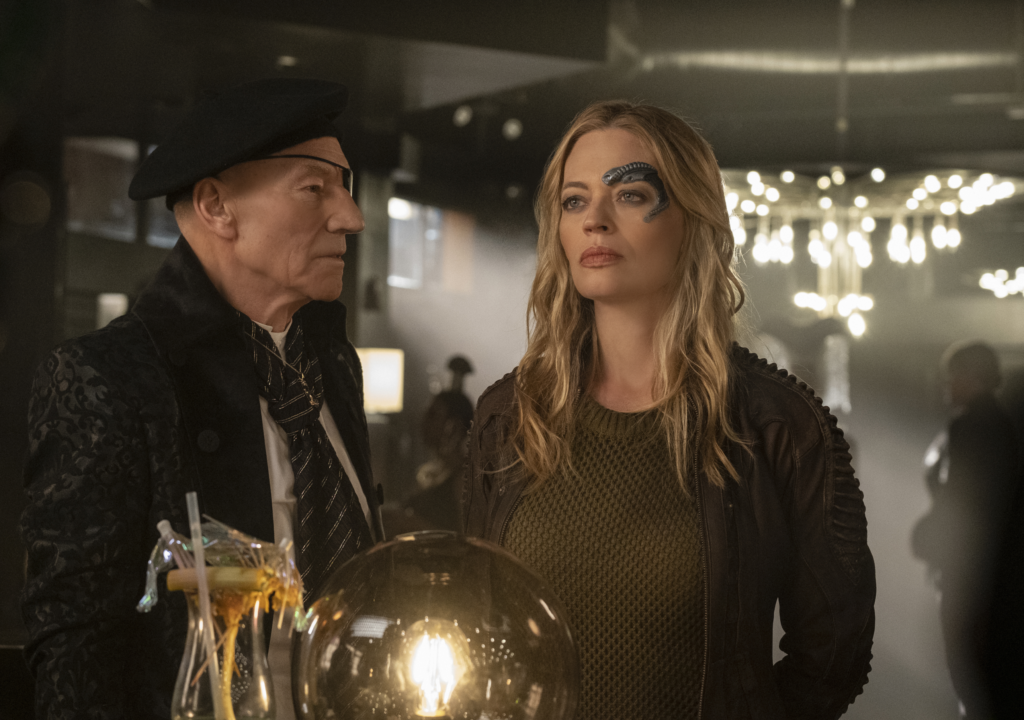 And then, because I needed more, it led me back to Voyager. On Voyager, I didn't see a catsuit. I saw a woman who didn't think for herself until she was in her twenties, a woman who even after she began thinking, was told that thinking was wrong. That she would understand when she was older. That she was being rebellious or naïve or over-emotional. I saw a woman whose talents were hailed as a strength when they suited the needs of the many, but were denigrated as weakness when used to serve anything but the Federation's ideas of "right" versus "wrong." I saw a woman who was pushed into relationships she didn't want. A woman who, through all this, had to learn what she liked and disliked. How to walk and talk and carry herself. How to move within a room.
And there, in those seasons of Voyager, my question shifted and grew. Instead of wondering if Seven was queer, I asked myself, What if Seven has always been queer?
–
This month marks four years since I came out to myself. Three since I came out to my parents. Two since I stopped talking to them. Sometimes I miss them so much it feels like a hole in my chest. Other times I think I'll be fine if we never speak again.
I would not trade my queerness for anything. Being queer has opened my eyes to injustice. It has widened and softened and radicalized my heart. The movements and ideals that evangelicalism insists are "made up" or "too political" have become real people with faces and names. Being queer has taught me that I must fight for them. That in freeing myself from oppressive -isms, I cannot leave anyone behind. As Audre Lorde says, "I am not free while any woman is unfree, even when her shackles are very different from my own." Or, as Toni Morrison puts it, "The function of freedom is to free someone else." Seven of Nine's growth from Voyager to Picard embodies this principal for me. Her queerness isn't just about loving women. It's about helping the helpless. Defending the weak. Feeding the hungry. It's about fighting for what's right, even when the people who created me insist that I am wrong.