[Trigger warning: emetophobia]
A few weeks ago I watched "Hollow Pursuits" for the first time. It was uplifting to me that Barclay and Geordi were able to discuss Barclay's anxiety openly. Only recently did I become accustomed to talking about my anxiety as it was, a mental health disorder, instead of as being "just shy."
"Being afraid all the time, of forgetting somebody's name, not knowing what to do with your hands. I mean, I'm the guy who writes down things to remember to say when there's a party. And then when he finally gets there, he winds up alone in the corner trying to look comfortable examining a potted plant."
– Reginald Barclay, Star Trek: The Next Generation, Hollow Pursuits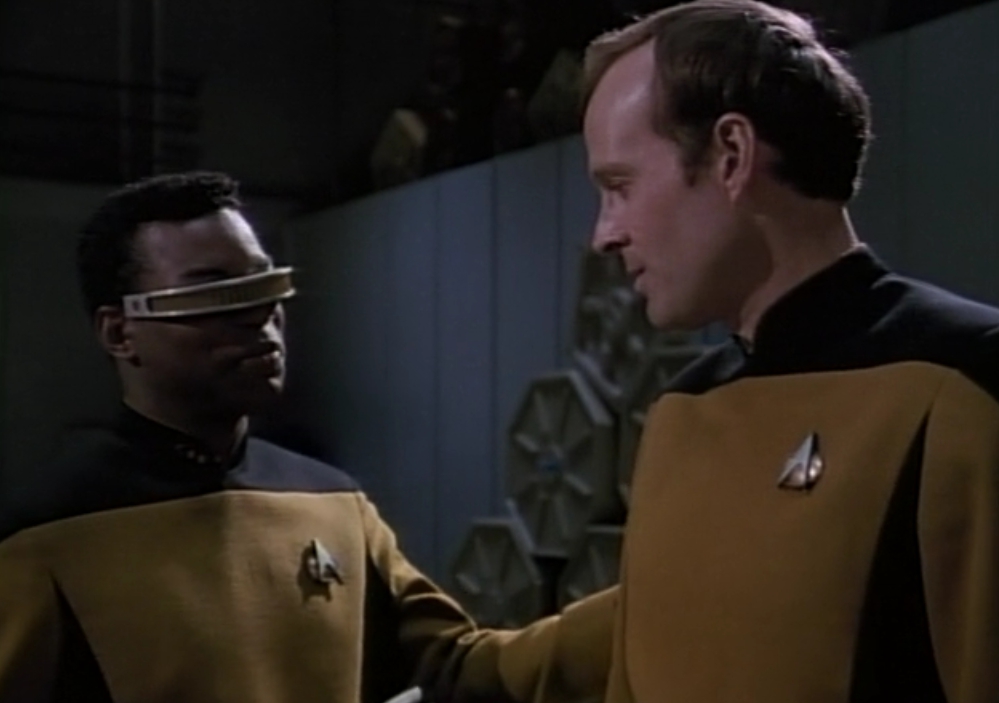 I'm an anxious traveler when alone, so I flew out to Las Vegas for the Star Trek convention with my mom and aunt. I was inspired by the honesty about shyness, pressures, anxieties, and mental health on stage in front of hundreds of fans.
On the first morning, we headed to the Inside Trek area to see René Auberjonois, who played one of my mom's favorite characters, Odo. The moderator, Jordan Hoffman, host of the Engage podcast, explained that Inside Trek was a more relaxed panel where we could learn about the "real" René. René shook his head and said, "Never gonna happen." Rene described the persona he put on while speaking on stage to hide his shyness. "That's also what drew me to Odo," he circled back later on, about the fact that playing Odo would require wearing a "mask."
Throughout my life, others around me always want to know the "real" me behind the shyness and anxiety. They come up with their own assumptions and conclusions, which always feel like layers are being applied to me. I'm not an onion whose layers equate to the "real" me. I'm more like an actor wearing prosthetic makeup.
There were many other important discussions throughout the convention. Terry Farrell talked about how she felt paralyzed because there was so much pressure and direction for her to follow while playing Jadzia. Gates McFadden used to be afraid of Star Trek fans and conventions because they were so public, but her mind changed after fans wrote letters to her after she was fired. Patrick Stewart didn't shy away from discussing his father's PTSD and how back in the day men didn't know what PTSD was, let alone how to get the help they needed.
On Thursday, my mom and I circled the vendors room looking for the signing for Mike Johnson, writer of Star Trek comics, and Kirsten Beyer, writer for Star Trek Discovery. I was so nervous to meet them that I was shaking in my sweater. I tweeted Mike just a week before about how the "Boldly Go" comics helped me feel less anxious during my first ever business trip to New York City. Eventually, we found the line and I debated the whole time: Do I introduce myself or just say thank you after he signs my issue? Finally, my anxiety convinced me to say something – it was now or never.
He remembered me and shook my hand, saying it was nice to meet me in person. He said, "I think people [with anxiety] like us are the creative type." I appreciated the comment because I always want to be creative but it is very difficult for me to bring all my creative ideas into fruition. "Just keep doing what you're doing."
Sometimes I succeed, other times I fail. Originally I had an essay I wrote that I wanted Karl Urban to sign for good luck. A man walked down the line gathering our names on post-it notes to help Karl personalize the autographs. Clearly, they wanted the line to move as fast as possible. I worried about holding up the line by explaining what my essay was, so I decided to get a glossy photo signed instead. Even when I turned the corner in the line and observed Karl, who obviously didn't mind having a conversation with each person, I didn't switch back to the essay. When my mind is already made up and the anxiety is gone, it is difficult to revert back. The "now or never" nerves push me to say or do what I really want to.
On the morning of the last day, my stomach started to hurt. I knew it was probably the leftover breakfast I ate that morning, but nausea crept in as I started to panic in the hotel room's bathroom. "What if I have to go to the hospital? What if I ruin our last day?" I threw up, my usual reaction to an anxiety attack, and laid on the towel on the floor next to the toilet, in pain and nauseous for a few minutes.
In the past, I would hide stomach or food-related anxiety while on vacation. I would force myself to eat normally. This time, I went back to bed and explained how I felt to my mom and aunt. My mom gave me saltines to munch on while she went downstairs to get yogurt and bananas. They gave me the time I needed to slowly eat, rest, and monitor how I was feeling. Once I felt normal again, I was able to enjoy my last day at the convention.
The only reason I was able to make it to this day where I can meet new friends at a crowded convention, recover from a panic attack, and write about it is because of the inspiring people who were open and honest about anxiety before me. I hope that if we continue sharing our stories, we can reach a future where we can discuss our needs without any judgement and receive the help we need to succeed.
"Glad you were with us out here in the real world today, Mr. Barclay."
– Geordi La Forge, Star Trek: The Next Generation, Hollow Pursuits