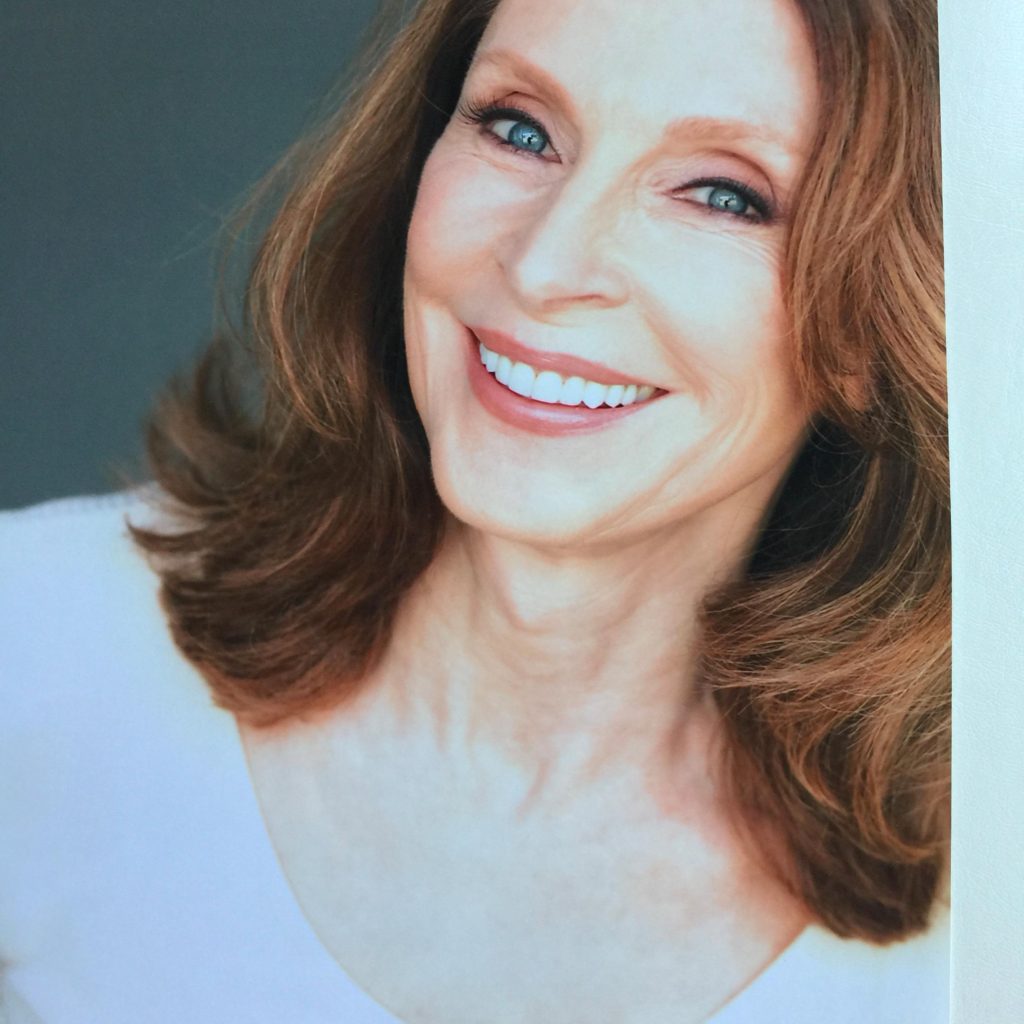 Gates McFadden is better known better to the geek elite as Dr. Beverly Crusher of Star Trek: The Next Generation. Now, Gates is not only beloved by the nerd masses, she is also very active in theater and used to work as a badass choreographer. She worked on Labyrinth and The Dark Crystal! If that isn't cult movie royalty, I don't know what is. I caught up with her during the 2016 convention season to chat about Star Trek's 50th anniversary, what TV she's loving right now, and how she's seen fandom evolve over the years.
Amy, Shoes & Starships: I'm here with Gates McFadden, the fabulous, extraordinary Doctor Beverly Crusher. Star Trek is 50 – what was your favorite part about your fifth decade?
Gates McFadden: I guess my favorite part has been actually meeting new fans and seeing how the show is so multigenerational now; that's been fantastic. Lots of fun. I've met lots of female surgeons and people who've gone into astrophysics, and it is amazing the differences, there are a lot more women in geology, chemistry, astrophysics; it seems so great.
S&S: Awesome! One of my fellow panelists at STLV, Dr. Kayla Iacovino, is an actual volcanologist, and I know she'll be thrilled to hear you say that. It's so great that about women in STEM fields and women in fandom are coming up to you and are so excited to share their careers with you. Have you noticed a difference in attendance demographics since you started doing conventions?
GM: Oh, absolutely. I think there's many more young women and they're not just there this time – you see, the women were always just into the male characters! So now it's like women are fans totally on their own and not just for the guys. They've got their own stuff that they're doing, like you guys are doing your own women in Star Trek panels, and that's what's different. It's really about talking about how the show has us given a preview of a lot of changes that have happened and are still happening culturally.
S&S: A lot of women in Hollywood are really vocally demanding their worth in the media, which we discussed a lot last year, and that seems like something that wasn't happening in the 90s when you were on TNG. You talked about having to leave because you had opinions, God forbid! And the fact that you came back was due to Patrick Stewart. How did you feel about the climate back then?
GM: Well, I don't like to go into much negativity at this point. It's a different climate now, which is terrific. I think that we definitely had a male set, which wasn't a bad thing, it's just how it was. Although when Whoopi Goldberg was there, she was the power on the set. Whoopi is so awesome, I love her. But things change, people are evolving, and while sometimes I wish we would evolve faster, I do meet a lot of amazing, amazing young men and women now and I feel that a lot of the Star Trek fans – they don't see color when they look at people, they don't see sex when they look at people, they just see people and that's pretty great!
S&S: What women behind the scenes have you worked with? Any female producers or directors that you are really excited and proud to have worked with?
GM: I have friends who are women directors I've worked with the women directors in theater. I've had several women directors, actually. Carol Churchill cast me for Cloud Nine, and she's an amazing writer. I'm friends with Robin Swicord, who just finished filming a movie with Bryan Cranston as the lead – Wakefield. There are some amazing female directors. In fact, my favorite director in the world is Ariane Mnouchkine, she still is alive and she changed my life. Seeing a couple of the shows she directed completely opened up a whole new world of performance to me. I thought she really was quite extraordinary.
S&S: Any cool women characters on TV that you're enjoying right now? Any shows on Netflix that you're loving? Like the Orange Is The New Black ladies, or Robin Wright on House of Cards? Lots of great ladies on TV right now!
GM: So, so many. The ones you mentioned, absolutely, they are fantastic. I love to see the range of characters in Orange Is The New Black. I love seeing Winona Ryder in Stranger Things, she's playing a fantastic character, there's just so many. Robin Wright is awesome, isn't she? I can't wait until next season. I know she's going to start talking to us directly in the camera. That's what I think's going to happen.
S&S: I would love that!
GM: I think she's (Wright) so great because, in the last episode this season, they both looked out at the camera and that is why I think that's going to be the next step, she's going to be the transition.
S&S: Do you watch Orphan Black?
GM: Yes. I haven't caught up, but I watched the first season. [Tatiana Maslany] is a fantastic actress. There are just so many good people out there now.
S&S: What do you hope for with the new Star Trek series and for women on the new series?
GM:  I hope they do what they feel like doing! I don't have anything where I go "oh, I hope it's this." I'm just curious. I'm curious to see. I can't wait. It'll be fun.
S&S: What do you think Beverly is up to now?
GM: I think she's probably asleep somewhere! I don't know. I have no idea. I'm not in touch with her! (laughs)
S&S: I'm going to throw it to Sue from Women at Warp! She's here with me. Any questions for Gates?
Sue: I always want to talk to you about puppetry work and theater. I love theater performance art – I'll see anything by Alex Timbers, he did Peter and the Starcatcher, and Shakespeare in the Park a few years ago. It was ridiculous and so much fun.
GM: Well there's something about theater, where there's something between the spectator and performer and it's a very, very strong relationship and is very powerful when it's working. There's nothing like it. There's such a connection to the audience. And when it's not working, there's nothing like that too! It really, really sucks. But, I love it.
S&S: What's your favorite production that you've seen? We are both in New York and see a lot of shows.
GM: I have not been in New York for so long now. I missed Hamilton. I've missed so many things I want to see. But who knows? I will let you know when I see something. Actually, there's a woman director from Brazil who I saw at the REDCAT in Los Angeles and she did a version of Miss Julie with film and theater, and it was really awesome.
S&S: Are there any plays or something that you'd love to direct or produce?
GM: About 500 of them!
S&S: Can't wait to see them! Thank you so much for your time, Gates!
Loved every second of this great interview. Go tell Gates on Twitter how cool she is, and enjoy her kitty cat photos, for she is a cat lover like so many of us! Also, she tweeted that she was in rehearsal on 10/13, aka #BevCrusherDay, so I look forward to seeing what new projects she's working on since we spoke.
This interview was originally posted at Shoes and Starships.