"This is the power of math, people!" -Tilly
Previously on Star Trek: Discovery: A load of stuff happens. Seriously, there's an outrageous amount of stuff involved. Burnham (Sonequa Martin-Green) reminds everyone that even though she is the infamous Mutineer, she has spent an entire season of Star Trek learning the power of FEELINGS and probably Starfleet shouldn't, you know, genocide people, Tilly (Mary Wiseman) looks upon her pupil in the art of FEELINGS and blinks her Disney Princess eyes with true pride before enrolling in Starfleet's School for Wayward Baby Captains, L'Rell (Mary Chieffo) reminds the Klingons that she with the biggest bomb gets to have the shiniest crown, Stamets (Anthony Rapp) accepts a medal on behalf of his fallen #SpaceBoo Dr. Culber (Wilson Cruz), Tyler (Shazad Latif) wanders off into the sunset with L'Rell after one last panty-dropping speech about the power of Burnham's love, and Saru (Doug Jones) gets to spend approximately .00047 seconds enjoying his Captain's chair before the U.S.S. Enterprise cliffhangers its way into ruining everything. Curses!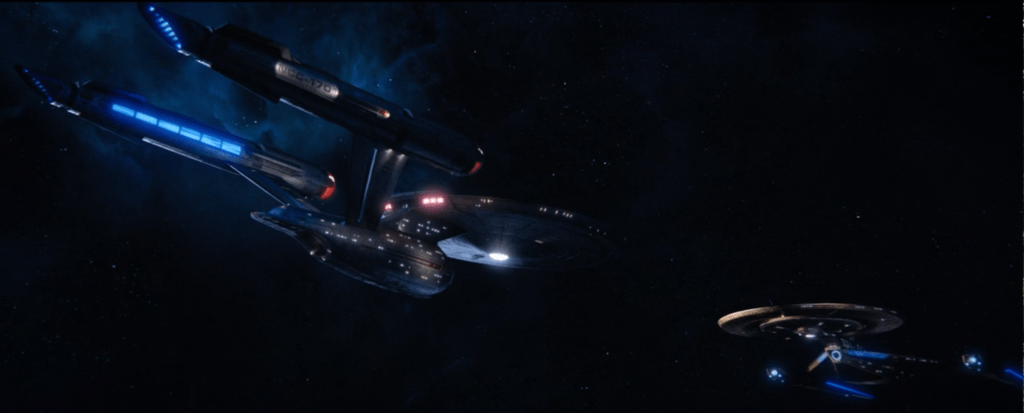 We open with a patented Michael Burnham voiceover, as she muses about Space, African folk tales, messages in a bottle hidden in space and time, and her days as wee orphan lass growing up with Sarek (James Frain) and Amanda. At this point the bar for most idyllic maternal figure has been set by Amanda Grayson (Mia Kirshner) and she doesn't seem to be relinquishing her title as "Best Mom in the Galaxy" any time soon, as she guides a traumatized young Michael into her home with the gentlest of hands. Unfortunately the tiniest of Spocks (Liam Hughes) is more into drawing emo snakes than welcoming his new sister, but to be fair to him if my dad brought home a new sister and informed me we were to be friends I would also hurl holographic snake monsters at their head and then sulk in my room.
Back on the bridge of Discovery the bridge crew is ready to shine this season, as they react to the Enterprise suddenly showing up, heavily damaged but with the crew intact. Tilly's suggestion of Morse Code works and Captain Pike (Anson Mount) sends a request to beam over, with a SCIENCE OFFICER. Sarek and Burnham give each other significant looks. What science officer could they possibly be anticipating? It seems neither of them expected to ever? Speak to Spock? Ever again? Yikes. That's family drama. We have a certain understanding of what pushed Sarek and Spock apart but no sense at all about what went down between our fav Vulcan and our fav almost Vulcan.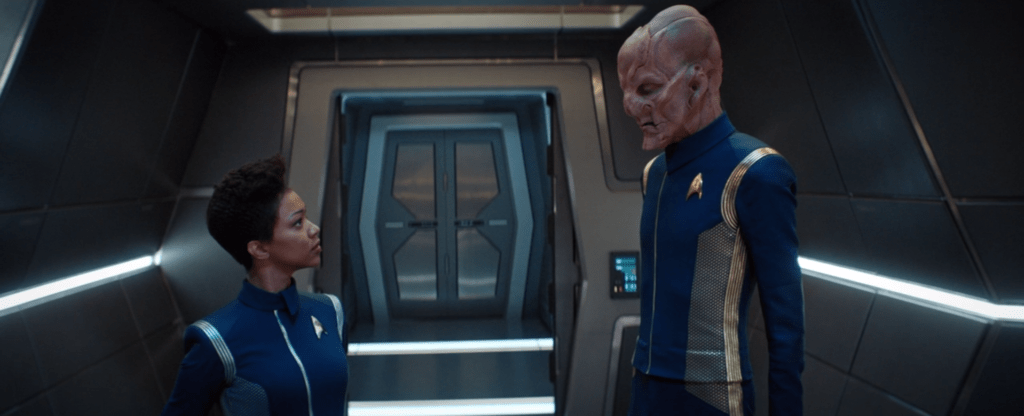 Saru and Burnham have a walk and talk about their assorted estranged siblings. I am absolutely obsessed with the way that Saru walks. His arms sway, like, behind him? I'm going to be honest, Saru serves like… underwater seaweed realness with this walk? And I love it. So much. He also brings up his sister, whom we met in Short Treks and I sat at home and shouted "I understood that reference!" at my television. The transporter guy with the super cool mirrored Geordi LaForge visor transports… not Spock to Discovery. Everyone in the transporter bay is like, "meh" at the appearance of this bland looking not-Spock apparently named Connolly (Sean Connolly Affleck). Pike steps off the teleporter pad to give Saru an awkward handshake and let him know that he is no longer Captain because… um… things are bad?
Pike uses the walk and talk to brag about his new uniforms and brief the Discovery peeps about these ominous red light things that appeared in synchronization, which they are calling a signal but apparently can't be scanned. Connolly immediately sets himself up as an insufferable shit when Burnham compares it to a compass at the North Pole. Don't condescend to Burnham, random science dude, or she'll school you on the difference between a simile and a metaphor without an ounce of disdain, somehow conveying with her neutrality how little you matter. No one throws shade like Vulcans. It must be an elective at the Vulcan Science Academy and Burnham got an A++. Pike and Burnham have a moment where they acknowledge their elephant, Spock and then it's off to the elevator, where my new favorite crew-member Linus (David Benjamin Tomlinson) sneezes on the insufferable not-Spock and Pike asks for the command codes.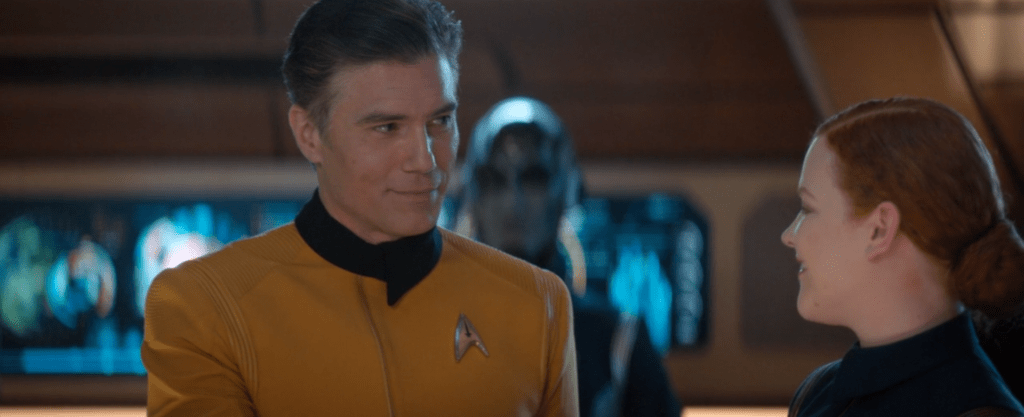 As Pike submits to a DNA test to prove he really is that naturally handsome, and is also really Pike, Tilly effortlessly charms him like she charms everyone else. Pike steps up in front of his F in astrophysics and gives his rah-rah speech where Lorca (Jason Isaacs) also used to give his rah-rah speeches to let everyone know that he is the real deal and would never betray them like that leather wearing psycho did. He won't even have a single Gorn skeleton in his closet and he eats a fortune cookie like a normal person instead of smashing it into dust first. No-sir-ee y'all, this captain that came out of nowhere is trustworthy! And handsome. Did I mention handsome? His smile alone sells space toothpaste like no one else's. They're gonna head out to the only coordinates they have and try not to start a war. Hit it!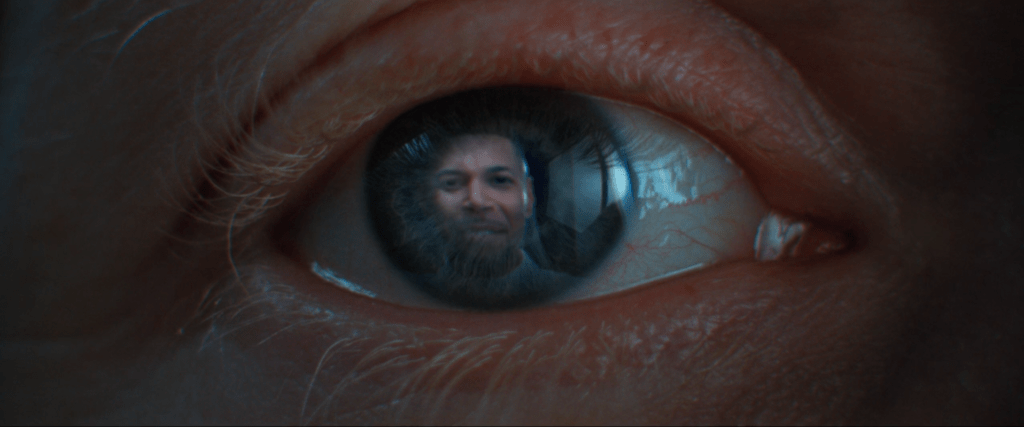 Stamets is mourning Culber in extremely relatable way, that is, obsessively reading old texts and listening to sad music. While Tilly tries to engage him on fascinating topics like storage, Stamets drops the bombshell that he'll be leaving the crew to be the Professor of Shade and Snark at the Vulcan Science Academy. It's the first time a human's been able to reach the level of sass needed for the position and we all know Professor Stamets will rise to the occasion. Tilly is, understandably NOT into the idea of losing her extremely grumpy and endearing boss. She tries to convince him to stay but Stamets is being haunted by the ghost of his beloved #SpaceBoo and he just wants to move on.
Burnham is dealing with her own ghost, the ghost of Spock, by filling her quarters with candles and diving back into Alice in Wonderland which we learned last season means a great deal to her as Amanda used to read it to her when she was a child. Sarek also has fond memories of the book, and of Amanda, as he stops by to let Burnham know that he'll be leaving Discovery to head up a task force dedicated to deciphering the signals. They share a conversation about how Sarek hoped that child Burnham could teach child Spock about human empathy. Apparently, Spock and Burnham had reached some sort of understanding before their falling out. It's all shrouded with mystery and I think it's safe to say that the Burnham/Spock relationship will be a cornerstone in the emotional arc of this season.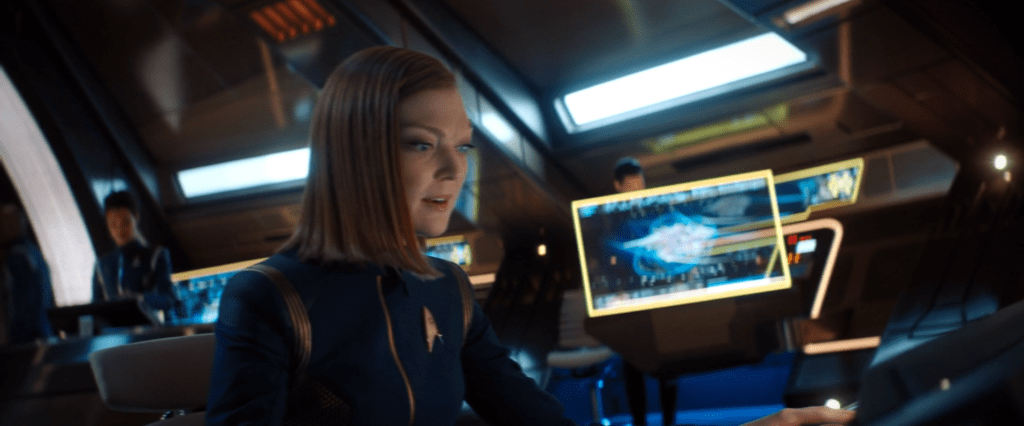 Pike decides to start out his first command by having everyone on the bridge introduce themselves, but at least he doesn't make them give a surprising fact about themselves. It's pretty charming actually, especially when he gives Detmer (Emily Coutts) the order to "fly good". I'm hoping that the increased focus on the bridge crew continues and also we get some bigger stories for them. In the meantime, it's lovely to see how awesome they are. I love them.
It's a good thing the bridge crew is on their game because Discovery drops out of warp straight into the shit. There is a LOT of science-ing happening. There's like, magnets, and gravity wells? And a lot of wailing and scanning and whatnot. I don't really know what's happening tbh. Pulsars? Whatever. But the upshot is there is a Starfleet vessel on the asteroid and they are going to go save whoever is down there because the Discovery leaves no person behind, thank you very much.
Time for an away team! Pike, Connolly, Burnham, and Lady Redshirt (Rachael Ancheril) are headed into what seems like a decently dangerous situation if I understood all of the yelling correctly. Tilly stops Burnham to A) ask her to pretty please get her a sample and B) pls don't die, thank you.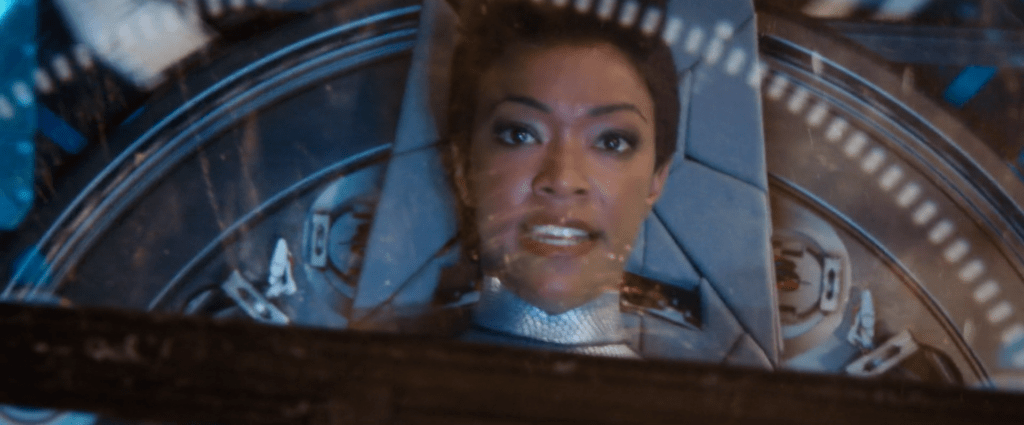 It's shiny spandex time! I am worried about Lady Redshirt because she's rocking her spandex but it's, you know, in that red color. They strap themselves into some hamster balls and start banging away at buttons. Apparently Burnham is awesome at flying the hamster balls, and no one is surprised except for Commander Not-Spock with his meh-face. Because I too like to express doubt in the abilities of my comrades when we're about to launch ourselves at a weird asteroid in what looks like Bubble Boy's plastic bubble. Not-Spock proves how NOT SPOCK he is by promptly dying due to an acute case of mansplaining. Luckily for Pike, Burnham, Detmer, and Owosekun (Oyin Oladejo) are actually as competent as they say they are and there is a lot of yelling and hilarious Detmer faces before they save him and his unnaturally handsome features from smashing into the asteroid like a bug into a windshield.
The away team, sans annoying Commander Mansplainer, make it to the Hiawatha and start exploring its incredibly creepy crash site. They are greeted by an extremely well-designed robot looking thing that pretty immediately starts being awesome by shouting at the away crew to follow. They go down one of those tunnel things that always brings me back to E.T. and barely avoid decapitation. Which, let's face it, would be inconvenient for all involved.
The away team comes out of the tunnel into a cross between a medical bay and a mad scientist lab and make the acquaintance of Jett Reno (Tig Notaro). In between the brain surgery and the musing on evolution being a fickle bitch, Pike gets to let her know that the Klingon war is over and there won't be any bat'leths swinging at her head for a little while. I've only had Jett Reno for five minutes, but if anything happened to her, I would kill everyone in this room and then myself. She is completely perfect in every possible way.

Reno and the away team cobble together some transporter stuff, and Reno immediately enjoys Burnham's devastating competency. Between the two of them I'm pretty sure they could handle anything and I would crawl over broken glass to see that show. Pike asks Reno if she has any idea what the signal is, but she's clueless and also been a little busy learning brain surgery, okay? After some dicey action shenanigans everybody and everything gets beamed out EXCEPT Tilly's asteroid sample. Pike comes back to save Burnham, proving yet again that these two really live by the "never leave anybody behind" code. Just before she gets rescued by Pike, Burnham sees a red angel-like figure, which is pretty dang trippy.
Burnham is sitting in sickbay after getting stabbed in the leg like, nah, no big deal. Her and Tilly have a science conversation that I do not understand even a little bit but makes them both very excited. And when Tilly and Burnham are excited, it makes ME excited, y'all. The sheer awesomeness of the science of capturing an asteroid draws Stamets in like milkshakes draw boys to the yard. Pike gives up the captain's chair to Saru for their asteroid mission. It's a bumpy but successful mission and Stamets and Tilly high five over the power of math!
Pike will be staying on to be joint? Captain? He is really not digging Lorca's serial killer ready room. He tells Burnham that Discovery's new mission will be to find out the source and intent of the signal. Alrighty then! Burnham wants to go visit Spock, but apparently Spock took all his vacation days and wandered off, which, let's face it, is something Spock has a tendency to do.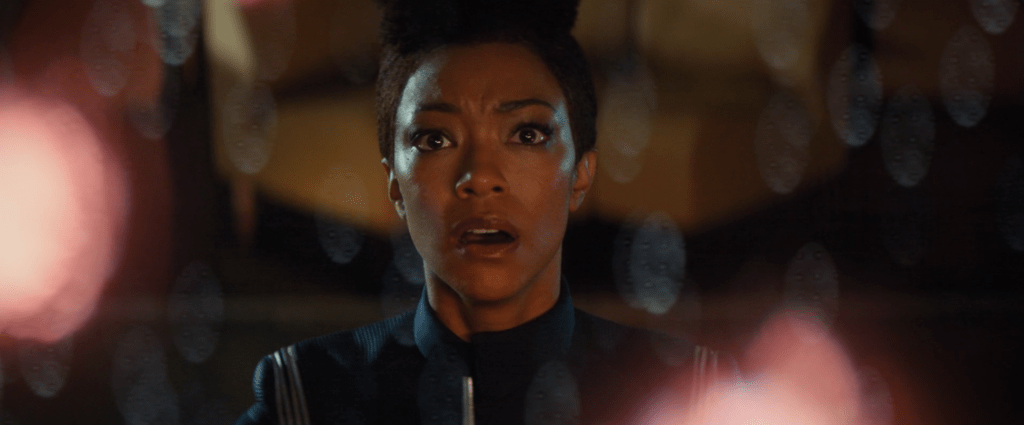 Burnham goes to the Enterprise and rifles through Spock's stuff, as one does and should definitely be allowed to do. She listens to Spock's (Ethan Peck) last personal log which details that he has been having nightmares and he now knows what he must do and where he must go. Mysterious and emo, Spock in a nutshell. Burnham takes the drawings encoded in the audio file and displays them and it is the five red lights. DUN, dun DUNNNNNNNNNNNNNNNNNNNNNNNNNNNN
So this episode was pretty cool! Lot's of awesome women and science-ing and science-ing women, and seeing a mansplainer get hit with an asteroid ranks high on my "best moments of Discovery" list. Looks like the five red lights (or is it four?) will be our mystery of the season and that Spock will be a large part of that storyline. I hope you enjoyed the season two opener and I'll see y'all back here next week!