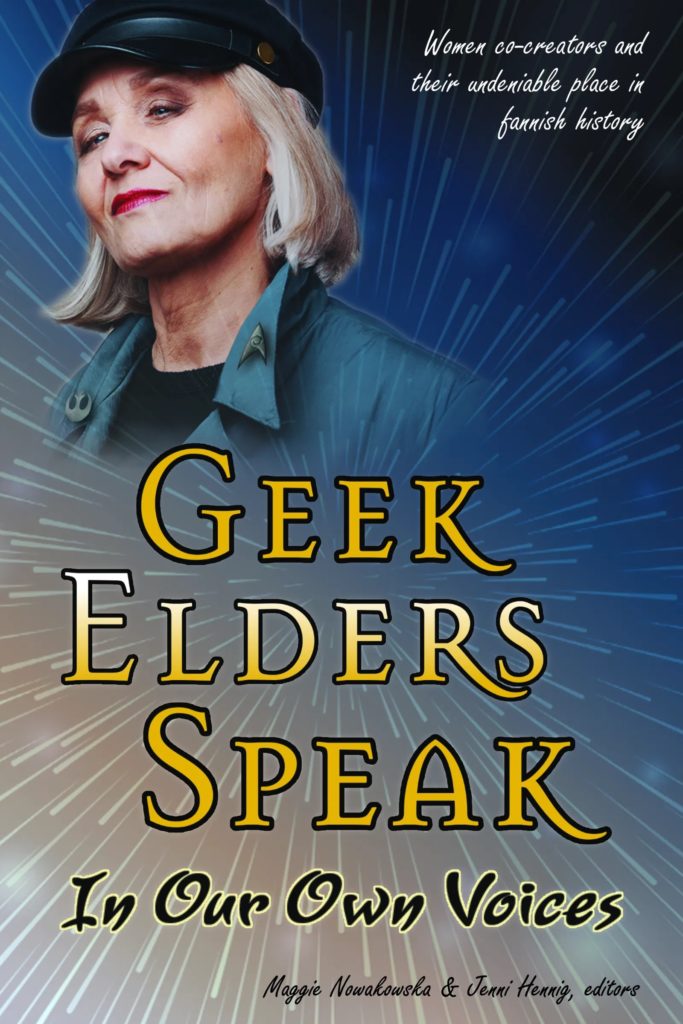 Geek Elders Speak: In Our Own Voices is "an anthology exploring the undeniable history of women creators in Science Fiction/Fantasy & Media fandom during the latter half of the 20th century" edited by Maggie Nowakowska and Jenni Hennig. And, if I understand it correctly, the genesis of this project can be traced to a 2019 Geek Girl Con panel of the same name, proposed by friend-of-the-show Jamala Henderson (who also wrote the forward), and was funded by a successful Kickstarter campaign.
This anthology includes personal accounts – some interviews, some essays, and some that read more like memoirs – from 30 women who were active in myriad aspects of fandom beginning in the 1940s.  This includes writers, editors, convention organizers, artists, costumers, gamers, filkers, and more.  Some of the names will be very familiar to podcast listeners – including Jacqueline Lichtenberg, Jean Lorrah, Linda Deneroff, and Bjo Trimble among others.
Although this is a book of fan history, it's not one of dates or timelines, but lived experience and connection.  Each story is somehow both personal and universal.  As I read these women describe their early years as a fan feeling isolated and thinking no one else like this weird sci-fi stuff, and then the joy they felt when they found their place in fandom… well, I saw myself in them, albeit 20-40 years later.   And I truly believe that's a feeling that geeks of all generations have experienced.
Because many of the fans contributing are of a similar age, many of the same media, zines, and events appear in several of the chapters.  (I, for one, never before realized how influential MediaWest*Con was – I'd always focused on the NYC Trek cons of the 70s.)  However, it doesn't feel repetitive.  Each woman experienced these things differently, from their own perspective, and filtered through their niche interests.  And they describe how those experiences have helped shape them.
If you're interested in fan history beyond just names and dates, I would suggest you add this to your reading list.  Fandom, in general, has always made me feel like part of something bigger than myself.  But reading these accounts make me feel like I have a very distinct place in the continuum of women in fan history.  I am connected to the past through stories and tradition, inspired by their passion and dedication – and I feel I have a mandate to serve as a bridge for the generations that will come after me.  As I near 40, I'm not quite a Geek Elder, but I will be one day, and I want to live up to that legacy.
Geek Elders Speak: In Our Own Voices was published by Forest Path Books on February 22, 2021 with an MSRP of $26.99 US for the paperback edition or $8.99 US for the ebook. It is available online, or at your local retailer.