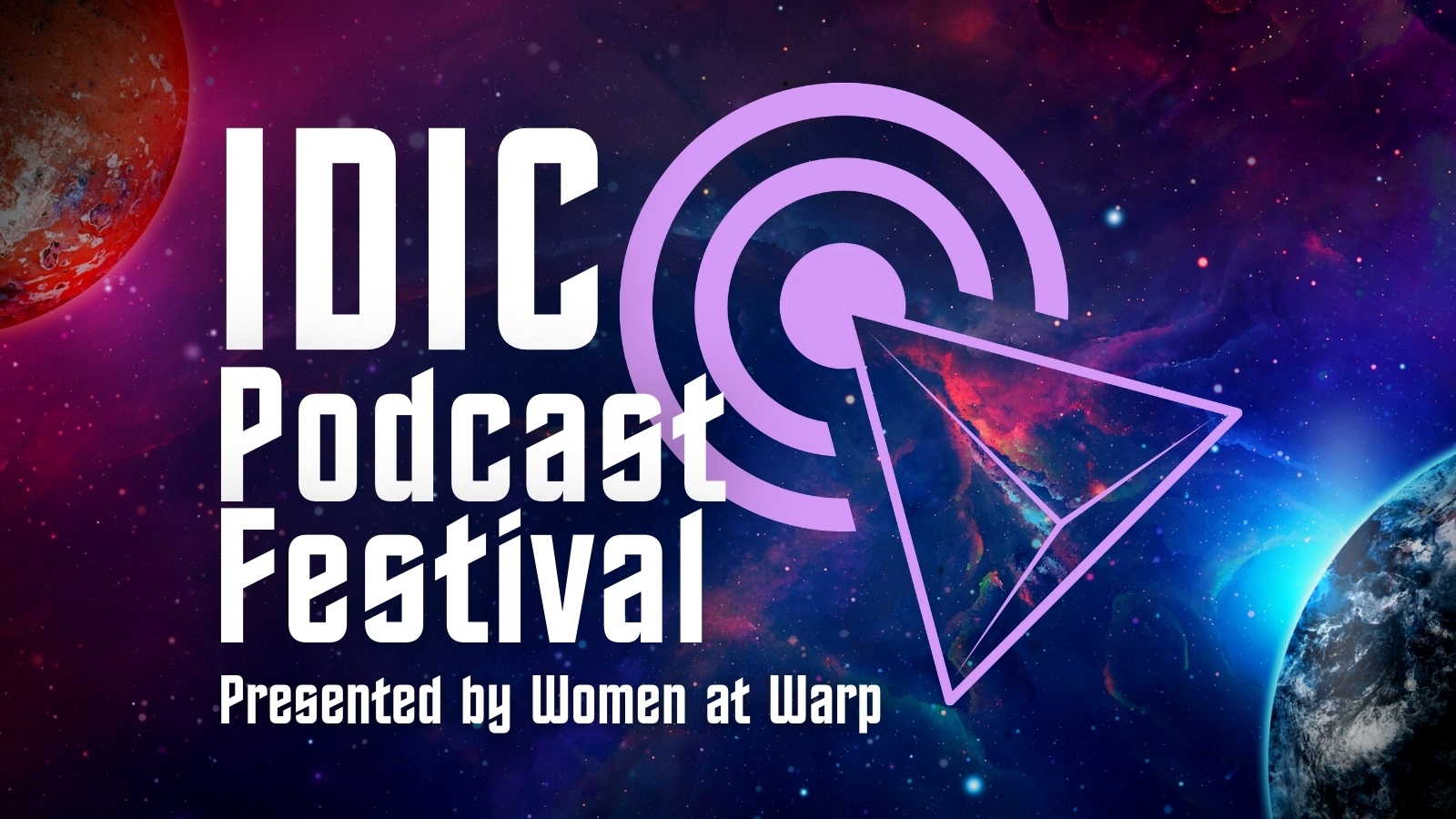 A two-day virtual podcast festival celebrating the
Infinite Diversity of Star Trek and Sci-Fi podcasting.
On July 17-18, 2021, Women at Warp will be hosting the (virtual) IDIC Podcast Festival. This weekend-long virtual event honors the Star Trek principle of Infinite Diversity in Infinite Combinations (IDIC) by celebrating and amplifying the diverse voices of our fandom through a series of live podcasts.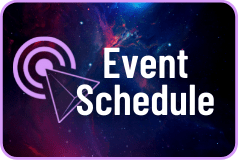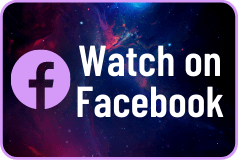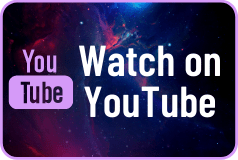 Over the past year, COVID-19 has taken away so many opportunities to connect with diverse creators and audiences in person. At the same time, we've seen fans taking to social media to seek out and share podcasts that approach Trek from diverse perspectives. As an intersectional podcast we know that women's issues are inextricably connected to issues of race and class, LGBTQIAP2S+ issues, disability issues, and more. The transformative period that we are in gives us an opportunity to truly center voices from all these diverse communities in our fandom.
Admission to this virtual event is free. Podcasts will be streamed live on Women at Warp's Facebook and YouTube pages and podcasts will be welcome to share recordings in their own feeds after the event.
Event Schedule
Saturday, July 17
12:00pm ET/9:00am PT – Opening Ceremony
–
12:15pm ET/9:15am PT – The Sci-Fi Feminist
Intersectionality and Michael Burnham in Star Trek: Discovery
I will first talk about the idea of internationality in recent feminist theory. I will then apply this theory to Star Trek: Discovery and Michael Burnham. I will show how Michael Burnham, as a woman of color who is a human raised on Vulcan, represents contemporary feminism's ideas of intersectionality.
I am a PhD graduate who studies feminism and pop culture, so I decided to turn my research from the past decade into a podcast. I talk about feminism and sometimes feminist theory, and apply it to examples from science fiction mostly. I sometimes do special episodes on more recently released topics, like Wonder Woman, Mortal Kombat and Cruella, to name a few. A lot of my research has to do with Star Trek, especially Voyager and Discovery, so many episodes are about Star Trek.
–
1:30pm ET/10:30am PT – Into the Wormhole with Larissa and Lauren
Music Therapy in Star Trek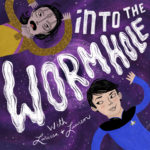 Your hosts Larissa Maestro and Lauren Lowen invite board certified music therapist and Trekkie Amanda Maestro-Scherer (MA, MT-BC) to talk about instances in which characters in the franchise have therapeutic relationships or experiences with music, and how music therapy (and other expressive therapies) could and should be a part of a future utopia.
Content Warning:  Discussions of mental health and trauma.
Larissa and her Number 1, Lauren, go down the wormhole to discuss the Trek they love and adore, exploring themes, patterns, representation, and their own relationships with their favorite franchise.
–
2:45pm ET/11:45am PT – Out of Orbit
Star Trek Misfits: Kai Winn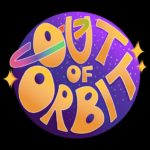 As part of a continued series where we explore some of least liked Star Trek characters, we'll be discussing DS9's Kai Winn. Who is she? What were her key plot points? Does she really deserve her reputation, or was she done a disservice by the show? That's what we aim to find out!
Out Of Orbit is a young, trans hosted podcast dedicated to having fun discussing, analyzing and engaging with science fiction media. We are focused mainly on Star Trek, but we also love discussing other sci-fi shows, films and literature, too. We pride ourselves on discussing shows, topics and content through an LGBTQ+ lens.
–
4:00pm ET/1:00pm PT – BlogTrek
Raising Kids as a Trans Trekkie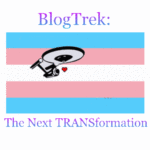 I'm looking to delve into the challenges and rewards of being a trans woman raising 3 biracial kids while trying to follow the principles espoused on Star Trek. I also want to look to discuss particular Star Trek episodes and how they've helped guide my transition.
Content Warning: Sensitive subjects.
My podcast is about my life as told as though it's a Star Trek episode. I cover things such as my transition, relationships and family. I also make some social commentary.
–
5:15pm ET/2:15pm PT – Trek Table
#20 Return of Mother & the Mental Stamina Required by Women Leaders in Star Trek Discovery Season 2, Episode 3 Point of Light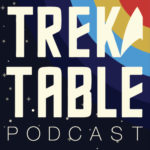 Trek Table explores the mental stamina required for a woman leader and the return of MOTHER with our deep dive into Star Trek Discovery Season 2, Episode 3 Point of Light. We'll discuss the hair and accessories, the Klingon tech and we'll notice the next in a sequence of Burnham's Transporter Room Surprises. Oh! And why Ash can't stop rubbing his hands? Join us live or in the archive – we'll hold Trek Space for you till then.
Trek Table holds weekly space for Black, Indigenous, Women of Color (Queer or otherwise) and our allies. We are fans of Star Trek Discovery and are currently moving through episode recaps and exploring each episode through segments such as Trek Table Questions, Space Runway, Discovery Design and Thematix.

–
6:30pm ET/3:30pm PT – InterTREKtional
Seeking Asylum in the Trek Universe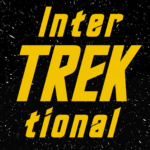 Across the globe today there are tens of millions of refugees seeking asylum, and in the US our Vice President recently told them, "Do not come." How does Star Trek portray those who are seeking asylum? As Star Trek fans, how has this influenced our beliefs?
InterTREKtional is an intersectional feminist investigation of Star Trek. Star Trek is both a reflection of our society and an aspiration for our future; the stories it tells shape our world. Intersectionality explores intersecting forms of oppression, and how they affect the experiences of individuals with compound identities (such as race, gender, class, religion, sexual orientation, and species).
–
7:45pm ET/4:45pm PT – Women at Warp
Building an Inclusive Podcast Community: Lessons from Women at Warp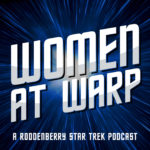 Six years ago a few Star Trek fans got together and created Women at Warp. We were novice podcasters who had to learn a lot as we went along about how to produce a show that reflected our intersectional feminist values and build an inclusive community around it. In this session our hosts will share what we've learned through our successes and our failures, as well as practical tips for anyone interested in starting your own IDIC-friendly podcast.
Women at Warp is a groundbreaking bi-weekly podcast committed to examining Star Trek from a feminist perspective, exploring Intersectional Diversity in Infinite Combinations with a rotating crew of seven hosts. Tune in for everything from episode and character analysis to history of women behind the scenes and in fan culture to discussion of larger themes and messages throughout the franchise.
–
9:00pm ET/6:00pm PT – Star Trek Discovery Pod
Finding Your Crew: Making Friends and Seeing Yourself in Trek
The Star Trek Discovery Pod's hosts all come from very different walks of life but come together over their love of Trek. Part of what makes that so special is that Trek let's us see ourselves on screen. During this session we will talk about when we saw ourselves on screen for the first time in the Trek franchise, and how it allowed us all to come together to see each other and build unique friendships.
A kinda smart/always fun Star Trek podcast and YouTube channel, covering Discovery, Picard, Lower Decks, Strange New Worlds, Prodigy, and the classics. Star Trek Discovery Pod likes to keep things positive while providing insightful recaps, critiques, and reviews of new Trek and beyond. Hosts Mike Garcia, Grant Davis, Clyde Haynes and Myrriah Gossett bring their unique perspectives each episode while also taking questions and comments from their audience.
Sunday, July 18
12:00pm ET/9:00am PT – Syfy Sistas
Strangers in Strange Lands: Cultural Identity in Star Trek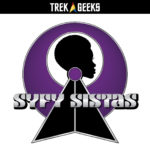 Black women in America are all too familiar with navigating between different cultures. We'll explore our experiences through looking into some of Star Trek's most notable bi-cultural characters.
The SyFy Sistas is a group of five women of varying ages who examine Science Fiction and Fantasy works through our lenses as Black women. We seek to promote Black thought, creativity, and representation in SF/F through our podcast on the Trek Geeks Network as well as our two interactive Facebook communities, The SyFy Sistas' Muthaship and The SyFy Sistas Book Club.
–
1:15pm ET/10:15am PT – The Micheaux Mission
Geordi LaForge & The Curious Case of Leah Brahms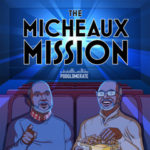 As huge fans of all things Trek, the Men of the Micheaux Mission have long appreciated the shows' diligence in presenting masculine figures of different hues, sizes and persuasions. Yet in the misstep of "Galaxy's Child" from TNG's 4th season, the Enterprise swerves our good 'brother' — Lieutenant Commander Geordi LaForge — into some toxic and icky waters.
Two men. One podcast. Every Black film ever made. Vincent and Len are on a mission to review EVERY African-American movie released to theaters.
–
2:30pm ET/11:30am PT – Deep Space Pride
Building a (Chosen) Family – A Depiction of LGBTQ+ Life in Star Trek Discovery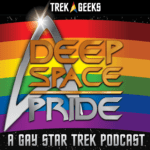 Having to build a chosen family is (unfortunately) part of the experience of many LGBTQ+ people. We'll discuss how that is depicted in Star Trek Discovery and how that can impact LGBTQ+ people as symbols of hope for those who are struggling to find and build their own community in life.
Mike Thurlow and Johnson Lee are two self-professed gay geeks who love to obsess over Star Trek – join us as we talk about some of our favorite episodes, revel as yet another new series is announced, and ramble on about some off topic content. And maybe once in a while, we'll simply talk about living as two gay guys in New York City.
–
3:45pm E/12:45pm PT – Interspectional
Star Trek as Period Drama: Adventures in the Holodeck and Places that Time Forgot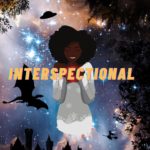 While Star Trek takes place in the future, so many episodes either take place in the past or have a time-period-specific aspect to them. These "bottle episodes" have a tendency to pose complex questions around sociology, psychology and ethics. Focusing on episodes from Star Trek: TOS, TNG, Voyager and DS9, we'll look at these period dramas in space, the themes that can be examined from these episodes and how science fiction makes these stories unique.
Black witches, fanfiction, diversity in period drama, Star Trek. All of these subjects and more will be discussed with actors, creators, journalists, cosplayers and fans on Interspectional. Interspectional is a podcast focused on having introspective, intersectional discussions about speculative media.
–
5:00pm ET/2:00pm PT – The TV Doctor
Clinical Depression: How Voyager's "Extreme Risk" Got it Right (and So Wrong)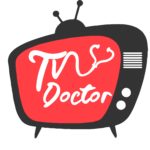 In Star Trek: Voyager's episode "Extreme Risk" (Season 5), B'Elanna Torres engages in self-harm behaviors and becomes a representation of individuals experiencing clinical depression. If we accept television as an educational tool, then this episode operates as a manual for recognizing the signs of depression in a loved one, and appears to offer suggestions on how one should offer support in such circumstances. The TV Doctor will discuss how to separate the messages in the episode that should hit home from the messages that should be left behind in the Delta quadrant.
Content Warning: Discussion of depression, anxiety.
The TV Doctor is a journey through the ways in which television (yes, television) can help you through the trying times in your life. Join M. Foss (who is not a doctor on TV but plays one in real life) as she "prescribes" what you should be watching to alleviate your emotional ailments. Segments include Over-the-Counter (a televisual multivitamin, if you will), Second Opinion (where M. Foss welcomes a consult with a guest who is an expert on the episode's topic), and Urgent Care (letters from the audience).
–
6:15pm ET/3:15pm PT – I Quit Star Trek
Why do we Quit Star Trek?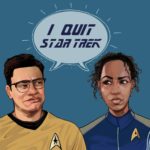 We've spent a lot of time 'Quitting' Star Trek on our podcast, but we've never really asked ourselves why we do it. So we're going to ask ourselves: Why do we 'Quit' Star Trek? Is it out of love? Hate? Fear? Anger? Let's find out.
Each week, John, Olivia and a special guest meet to discuss some of the weirdest, most bizarre and outright insane episodes of Star Trek. Sometimes they make us think, sometimes they make us laugh, sometimes (most of the time) they make us cry. However, it's not just about the cringe – we ask important questions about why Trek is bad sometimes, whether it's because of bad writing, inattentive writers or simply the world in which Trek was made.
–
7:30pm ET/4:30pm PT – Your Away Team
Temporal Blackness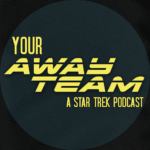 How safe is it for Cosmic Africans to travel through time? PAOs Allen and Ray analyze the successes – and failures – of temporal away missions throughout Trek.
Join Starfleet Temporal's Finest, Lt. Cmmdrs. Talij and S'Triton, on their mission to explore the contributions of the Cosmic African Diaspora in Star Trek. Accompanying them are their Public Affairs Officers (PAOs) Lts. Allen and Ray, diligent attaches who help keep track of things
–
8:45pm ET/5:45pm PT – Strange New Worlds: A Science & Star Trek Podcast
Diversity in STEM and Star Trek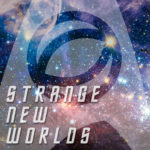 This live episode of Strange New Worlds: A Science & Star Trek Podcast brings together a diverse group of STEM folks who were all inspired by and/or are great fans of Star Trek. Together, we'll talk about: (1) how Star Trek portrays a future that is welcoming and inclusive to people of all backgrounds in STEM; (2) ongoing efforts to improve diversity, equity, and inclusion in STEM; (3) how these scientists' and engineers' work advances our knowledge of the cosmos in the present day; (4) take live questions from the audience, if feasible.
On Strange New Worlds: A Science & Star Trek Podcast, we examine science, technology, and culture through the lens of Star Trek! How do real astronomers scan for biosignatures? Do you die when you enter a transporter? Can Barclay really de-evolve into a spider? Host and astrobiologist Dr. Michael L. Wong beams aboard fascinating guests to delve into these questions and more!
–
9:45pm ET/6:45pm PT – Closing Ceremonies
After the event, recordings of all of the sessions will continue to be available on the Women at Warp Facebook and YouTube Pages.